'The Simpsons' Renewed Through Season 30, Setting A New TV Record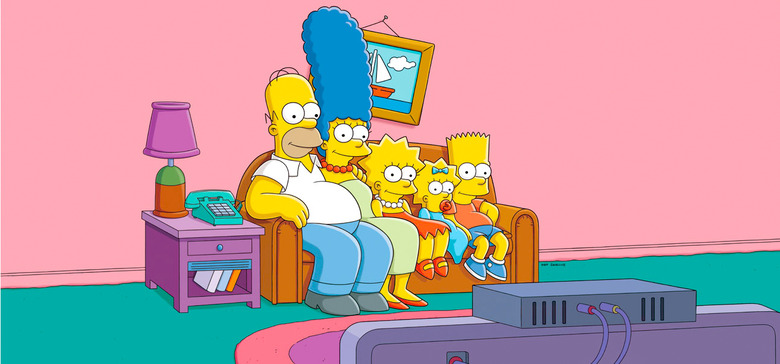 Technically, The Simpsons is the longest running scripted TV show of all time. With their 28th season, they have long surpassed the two shows in second place, Law & Order, and Gunsmoke. However, when it comes to the latter program, Gunsmoke is actually still the longest-running scripted TV show by episode count, because even though it lasted just 20 seasons, those seasons in total contained 635 episodes. But The Simpsons will soon blow that record out of the water as well.
Fox has confirmed that The Simpsons has been renewed for a 29th and 30th season, and when all is said and done, that will take their episode count well past Gunsmoke's record-holding number. However, with all the trouble Fox had getting all the cast back for the last renewal, can we expect any more issues this time? Find out after the jump.
Fox announced The Simpsons renewed for season 29 and season 30 in a press release, and in addition to touting their record-setting number of episodes in the works, the network has confirmed (via Deadline) that primary cast members Dan Castellaneta, Julie Kavner, Nancy Cartwright, Yeardley Smith, Hank Azaria and Harry Shearer are all locked in to return for those seasons.
Homer Simpsons himself made a statement saying, "Take that Gunsmoke! You lost a race you didn't even know you were running!" But Dana Walden and Gary Newman, Chairmen and CEOs of Fox Television Group, were a little more tactful with their bragging:
"This is yet another record-setting moment for what is truly a landmark series. The Simpsons has meant so much to the network, the studio and everyone at Fox, and its continued cultural impact around the globe is a testament to the combined brilliance of [executive producers Matt Groening, James l. Brooks and Al Jean]. Congratulations to everyone who works on this groundbreaking series – from the voice cast and producers to the writers and production team – you comprise one of the greatest collections of creative talent in the history of the medium. And to the millions of Simpsons fans around the world, thank you for watching all these years. We're happy to tell you there's lots more to come."
At the end of the 30th season of The Simpsons, the show will have amassed 669 episodes, and it's hard to imagine any other series coming close to that number ever again. The question is whether that nice round number of seasons for The Simpsons will be the end. Don't forget that Al Jean hinted at its conclusion sometime soon, saying:
It's quite possible that we don't have to go through the whole negotiation for 30. I wouldn't be stunned if we stopped at 28 but my bet is on at least 30. But then you'd have to resign them again. If you made me pick one, I'd say the likeliest is ending after 30, but I've been wrong before. I thought five seasons was good when I got there (laughs).
The announcement didn't mention anything about a final season, but that's the kind of thing you don't want to confirm when the end of that 30th season is still over two years away.  Don't forget you can get your fill of The Simpsons all over again with a new 13-day marathon of every single episode of the show over at FXX later this month.