Dave Chappelle Is Hosting 'Saturday Night Live' For The First Time Later This Month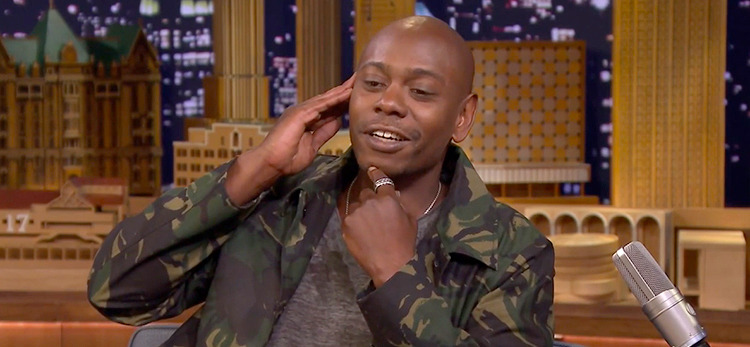 Dave Chappelle stunned the entertainment industry and his fans about 10 years ago when he walked away from his wildly successful Comedy Central sketch comedy show Chappelle's Show, which included a $50 million contract at the cable network. Many called him crazy, but his reasoning as a comedian with integrity and principles was sound. Chappelle likely could have handled it better for the sake of his co-workers, but that's all in the past.
Since then, Chappelle has returned to the world of comedy, headlining the Oddball Comedy Festival, and appearing randomly at various small venues for surprise appearances at the last minute. But now he's bringing his talents to an entirely unexpected arena: Saturday Night Live.
NBC has announced that we'll see Dave Chappelle hosting Saturday Night Live for the first time on November 12. This is a huge surprise since the actor has been essentially non-existent in television, with the exception of a handful of appearances on late night TV a few years ago. Just last year Chappelle had a small role in Spike Lee's movie Chi-raq, which marked the comedian's first film role in 13 years. For Chappelle to choose SNL as the place to make a return to sketch comedy is a shocking one, but it will certainly make for an exciting episode.
Chappelle will be joined by the hip hop group A Tribe Called Quest, who are releasing their first and last studio album on November 11th. Having them on the show along with Chappelle is a perfect fit since he's been a longtime fan and supporter of the group.
Even though Dave Chappelle was a huge name in comedy, especially among younger crowds, in the early to mid-2000s, I'm not sure if this will be an episode that will pull in a lot of ratings. Surely there will be plenty of fans tuning in our of sheer curiosity, and Chappelle will undoubtedly make for a more diverse crowd to tune into SNL who otherwise might not be interested in a comedic cast that is predominantly white.
But as a comedy nerd, I'm just interested to see what the writers and cast of SNL do with someone with such a brilliant comedic mind as Chappelle's. Will SNL go for more racial humor than normal? Many would argue that Saturday Night Live has lost the edge it used to have when it first started out as a show that went expressly against network standards and the rules of comedy on television. So maybe Chappelle will inspire some of the attitude that some think the show has lost over the years.
For those hoping that Chappelle might reprise some of his famous characters from his own show, I'm not sure that's legally possible. Comedy Central likely owns the rights to all those characters, so I don't think NBC would be able to utilize them on the late night sketch comedy show.
All I know is I'll be waiting for this episode with great anticipation, and we'll have a recap of the show the day after it airs. And don't forget, this weekend brings Doctor Strange star Benedict Cumberbatch to SNL as host for the first time, so stay tuned this weekend for our recap of that show as well.
If you haven't watched it yet, I recommend Dave Chappelle's episode of Inside the Actors Studio to get some more insight into his comedic mind and the decisions he made with his career: