There's A Furby Movie In The Works, Because That Toy Was A Thing Once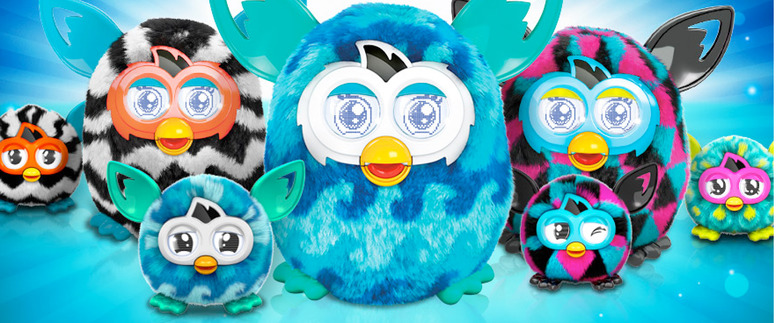 Even though Hollywood has slowed down a little bit when it comes to turning brand name toys and games into movies, that doesn't mean they're dead. The Weinstein Company has just announced development on a new movie based on one of the hottest selling toys of 1998.
The Furby was a popular little robotic animal that looked like a furry owl. It became popular because of the appearance that it learned English from people talking to it, but it was actually just programmed to begin speaking only its native "Furbish" language until it eventually started using English words. Now the toy line will be getting its own movie.
Bob Weinstein announced the existence of the Furby movie during a Weinstein Company presentation (via Variety) for buyers at the American Film Market, though there weren't any specifics as to what the story would be about or anything like that. All we know is that the project will be a live-action and CGI hybrid, not unlike Alvin and the Chipmunks or the early movies in The Smurfs franchise.
Hasbro executives Stephen Davis and Josh Feldman were on hand and they offered the standard business chatter. Davis said, "We think that this can resonate as a four-quadrant film. It can't just by a 90-minute commercial." Of course, no matter how good the movie is, it will still be a 90-minute commercial that will help sell toys. Feldman was a little light in talking about the movie, joking that they were looking to get David Fincher on board as director. Even though that's just a joke, if David Fincher was directing a Furby movie, I would buy my ticket immediately.
Following the success of Paddington, it looks like The Weinstein Company may be more actively pursuing projects that aren't just prestige pictures looking for awards love. After all, if they're going to have the money to spend on those kind of projects, they need other movies to help pull in that money.
You might not think Furby is the best path for The Weinstein Company to make when it comes to adapting one of Hasbro's toys, but it's still quite the popular item. In the years since technology has advanced, Furbys have only become more sophisticated in what they can do, including capabilities that are tied to mobile apps on phones and tablets. There are also far more varieties of Furbys that can do more than just move around slightly and speak, but we'll let you check out the toy's Wikipedia page if you really want those details.
When it comes to turning toys into movies, every studio hopes they'll get something like The LEGO Movie, but that really seems to be more the exception than the rule. We'll see how audiences respond to something like Trolls this weekend to see if there's still an interest in movies like this, but at the end of the day, regardless of the popularity of the toy (since Trolls aren't really a thing anymore), it's about the quality of the movie being presented. So if a Furby movie turns out to be something that somehow looks like it might be good, then people will see it.