A 'Klown' Remake Starring Sacha Baron Cohen Is In The Works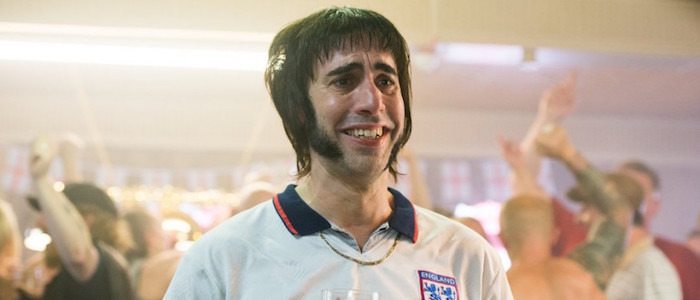 Call me crazy, but I still have faith in Sacha Baron Cohen.
But he's tested that faith. Repeatedly. This year. Anyone who manages to appear in Alice Through the Looking Glass and The Brothers Grimsby within the space of a few months can do that. And yet, I think it's impossible to deny that the man is a good actor and when he's paired with the right collaborators and given the right material, he's one of the most inventive and surprising talents working today.
One thing he has proven repeatedly in various interviews is that he generally has good taste in other projects, which explains why he's a fan of the great Danish comedy Klown and why he's attached to star in an American remake.
Screen Daily reports that the Klown remake has sold at the American Film Market. Megan Ellison's Annapurna pictures won a "heated bidding war" for the rights to remake Mikkel Norgaard's 2010 film, which is the highest grossing film of all time in its native country, and has a small but dedicated cult following elsewhere. Annapurna's involvement may be the most interesting aspect of this project. While the company built its reputation on backing ambitious projects from acclaimed filmmakers (their filmography includes Her, The Master, Zero Dark Thirty, Spring Breakers, and Foxcatcher), their biggest box office hit to date was the raunchy animated comedy Sausage Party. So a Klown remake makes a lot of sense – maybe those R-rated comedy dollars can help pay for more great arthouse fare.
And Klown, in its original incarnation, is one of the most R-rated comedies of all time. A spin-off from the television series of the same name, the film follows two friends, Frank and Casper, (Frank Hvam and Casper Christensen) who embark on a weekend trip with Frank's young nephew as part of an ill-conceived plan for Frank to prove to his wife that he's father material. Things go grotesquely, magnificently wrong and anyone who can watch Klown without averting their eyes or shuddering from the raw awkwardness of it all is a stronger person than me. It was followed by a pretty good sequel.
Cohen is no stranger to cringe comedy, having built his career on anarchic prank comedies like Da Ali G Show, Borat, and Bruno. He's also a terrific character actor, having proved his chops in movies both great (Hugo) and not-so-great (Les Miserables). If the remake pairs him with the right sparring partner and embraces the original's pitch black, loathsome spirit, a new version could be something to behold.
And if it doesn't work out...hey, the original will always exist.