'Wilson' Red Band Trailer: Woody Harrelson Finds A Connection In The Daniel Clowes Adaptation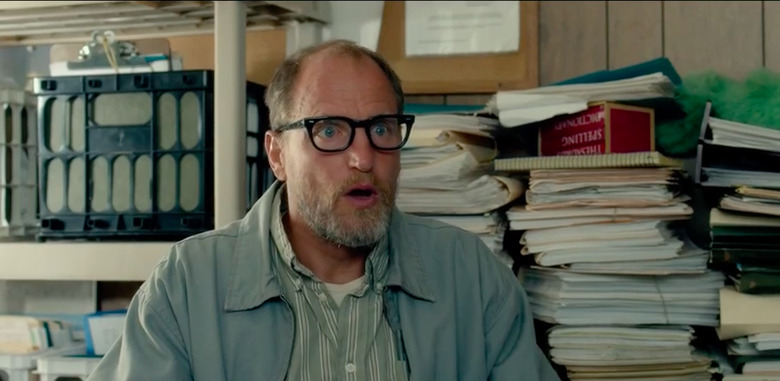 For the third time, writer Daniel Clowes (Ghost World) has seen one of his graphic novels adapted for the big screen. Wilson, based on Clowes' novel of the same name, stars Woody Harrelson as the titular character, a socially awkward fellow without any filter, any real friends, or any sense of boundaries. The comedy is directed by Craig Johnson, who's following up The Skeleton Twins.
Below, watch the Wilson red band trailer.
This adaptation has been in the works for a few years now. Before Johnson's involvement, writer-director Alexander Payne (Sideways) was attached to Wilson. Payne was going to make the comedy after Nebraska, but for whatever reason, he exited Wilson. While a fall premiere was expected for the Fox Searchlight project, which features a score from Jon Brion (Punch-Drunk Love), it's instead coming out next March.
Wilson's journey begins with his father's passing. More alone than ever, he's delighted to discover he's a father. Wilson learns his estranged wife, Pippi (Laura Dern), gave up their daughter (Isabella Amara) for adoption without telling him. Finally, Clowes' character may find some happiness in his life, as long as he doesn't find too many ways to screw up his new family. The film co-stars Judy Greer and Cheryl Hines.
Here's the Wilson red band trailer:
Woody Harrelson looks great as Wilson, although that's not the least bit surprising. It's been a few years since we've seen the actor in the leading role of a film. Harrelson's last lead part was Rampart., and since that 2011 drama, he's mostly had supporting roles: Out of the Furnace, The Hunger Games franchise, Triple 9, the Now You See Me movies, and Seven Psychopaths. The more Woody Harrelson, the better, so no complaints here, but it is nice to see him headline a movie again, especially in a role as offbeat as Wilson. The actor, who's excellent in the upcoming Edge of Seventeen, was in the capable hands of Craig Johnson, a promising director who has a way with actors and tricky tones. We should expect good things from Johnson's collaboration with Harrelson.
Here's the official synopsis:
Woody Harrelson stars as Wilson, a lonely, neurotic and hilariously honest middle-aged misanthrope who reunites with his estranged wife (Laura Dern) and gets a shot at happiness when he learns he has a teenage daughter (Isabella Amara) he has never met. In his uniquely outrageous and slightly twisted way, he sets out to connect with her.
Wilson opens in theaters March 24th, 2017.