Shane Black's 'The Predator' Targets Olivia Munn, Will Head Into The Suburbs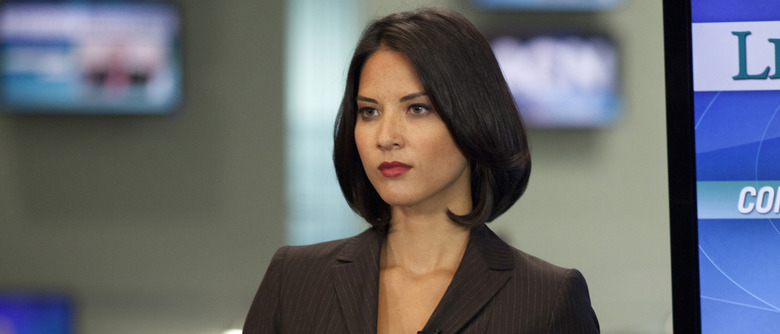 The Predator is targeting another star from the X-Men universe. Olivia Munn, last seen wearing her very best latex swimsuit to a war memorial as Psylocke in X-Men: Apocalypse, has just boarded Shane Black's reboot-quel, joining Logan villain Boyd Holbrook. And along with the casting news comes a few new plot details about the mysterious movie. 
According to The Hollywood Reporter, who broke the news of the Olivia Munn Predator casting, The Predator "plunks the alien hunter — whom audiences have seen fight in jungles, concrete jungles, frozen wastelands and alien planets — in the harsh environment of ... suburbia." Holbrook has been set to play a Special Forces commando, while Munn will step into the role of a scientist.
Holbrook won the Predator gig a few weeks ago after Benicio del Toro, who'd originally been attached to star, dropped out due to scheduling conflicts. While Holbrook certainly seems to be on his way up, he's nowhere near as big a name as del Toro, so the plan now is to surround him with a strong supporting cast. Munn is fairly well known at this point and should be able to lend a bit of star power to the production.
Although concrete details remain sparse, Black, who is co-writing The Predator with Fred Dekker as well as directing, has spoken in general terms about what he wants his film to be. "I think the Predator movies have slightly veered from typical sci-fi in that there is a sort of thriller aspect to them," he said recently. "I think it should be scary, I think it should be funny, and I think ultimately it should be wondrous and about perceiving things that human beings very seldom get a chance to see."
The Predator sorta-kinda functions as a reboot, in that it's intended to resurrect a long-dormant franchise with new characters and new storylines. But it's also a sequel, as Black is eager to point out. "I think it has to stand on its own two feet, but our goal is to make sure it acknowledges that, yeah, it is 30 years later in the continuity of the story," he said. "In other words, Dutch Schaefer's patrol, which was attacked and largely slaughtered, happened 30 years ago in the context of the story. It's referenced, it's part of the mythology."
Munn's had a busy year, appearing in Ride Along 2 and X-Men: Apocalypse. The latter frankly seemed like a waste of her talents and training, so hopefully she'll have more to do in The Predator. She'll next be seen as part of a star-studded comedy ensemble in Office Christmas Party, from Blades of Glory helmers Josh Gordon and Will Speck, and she'll be heard next year in The Lego Ninjago Movie.
Shooting on The Predator is expected to get underway in February for release on February 9, 2018.