'Nerdland' Trailer: Patton Oswalt And Paul Rudd Need An Instant Fame Plan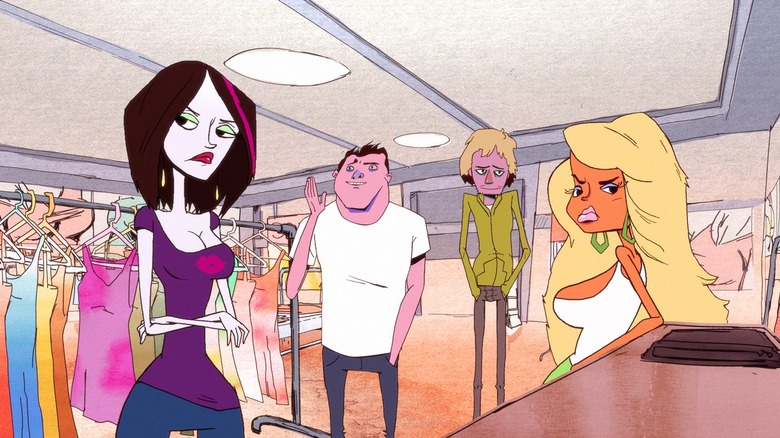 Nerdland comes from the mind of Andrew Kevin Walker, the writer behind Se7en, Wong Kar-wai's killer BMW short film "The Follow," and a supposedly great script that Joel Schumacher butchered and rewrote into 8mm. Not since the 2010 remake of The Wolfman has Walker had a feature film credit, but we'll soon see an original, R-rated animated movie with his name on it.
Below, watch the new Nerdland trailer.
Directed by Metalocalypse producer Chris Prynoski, Nerdland revolves around two slackers on the edge of turning 30. These two pals, John (Paul Rudd), the aspiring actor, and Elliot (Patton Oswalt), the aspiring writer, are sick of waiting for fame and fortune. Set in Hollywood, the talentless duo will do whatever is necessary to achieve the lavish Hollywood lifestyle they only can dream of. Nerdland also features the voices of Mike Judge, Hannibal Buress, Molly Shannon, and Kate Micucci.
Here's the Nerdland trailer:
If you want to see more from the film, you should check out the red band trailer, but even this safe-for-work trailer gives a clear indication of Nerdland's dark sense of humor. While this looks like a wild story written for this style of animation, Walker initially wrote Nerdland as a live-action film. In fact, a longtime collaborator of Walker's, David Fincher, was attached to direct at one point. For years, Walker saw the story struggle to get made, but when Titmouse Inc. Animation became involved, Nerdland finally got off the ground.
Here's the official synopsis:
NERDLAND is the wild tale of two slacker best friends, aspiring actor John (Paul Rudd) and wannabe screenwriter Elliot (Patton Oswalt), who have seen their dreams of super-stardom fizzle. With their 30th birthdays looming and desperation growing, they decide that in this 24/7, celebrity-obsessed world of over-shared navel-gazing, there are more ways to get famous than ever before – so why not become famous by the end of the day, at any cost?
With only the grudging support of a wacky collectible store owner (Hannibal Buress) and their one-sided love for a pair of equally fame hungry women (Riki Lindhome and Kate Micucci) to keep them going, John and Elliot troll Los Angeles on an attention grabbing journey of increasingly reckless publicity stunts and failed heroics. While navigating their hyper-stimulating landscape of consumerism gone wild, our disheartened duo inadvertently become key witnesses in a high profile crime that sets the news cycle on fire.
The resulting attention (from both the public and their dream girls) may just be John and Elliot's ticket to fame, making them household names... but only if they can survive the infamy and worldwide shame.
Nerdland plays in theaters for one night only on December 6th and is available on VOD starting January 6th.