'Wonder Woman' Trailer Breakdown: Going Through The New Footage Frame By Frame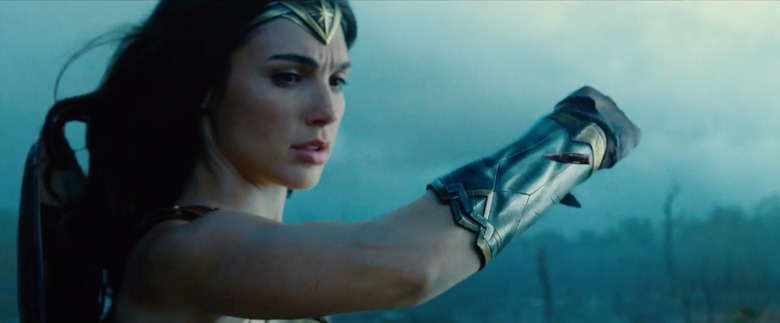 The new Wonder Woman trailer has arrived and you know what that means: it's time for a trailer breakdown, where we go through the whole thing frame by frame. Let's jump right in.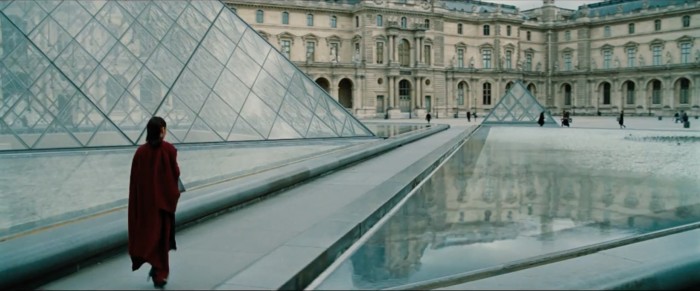 We already knew that Wonder Woman would be bookended with modern day sequences that will tie the film into the large DC movie universe and further push us toward Justice League. Still, it's a nice choice to have Diana (Gal Gadot) pay a visit to the Louvre in Paris, a centuries-old, distinguished institution that has weathered the years, taking on modern touches to keep itself fresh and relevant. In other words, it's a very appropriate location for an immortal superhero to visit as an excuse think about (and flash back to) her past.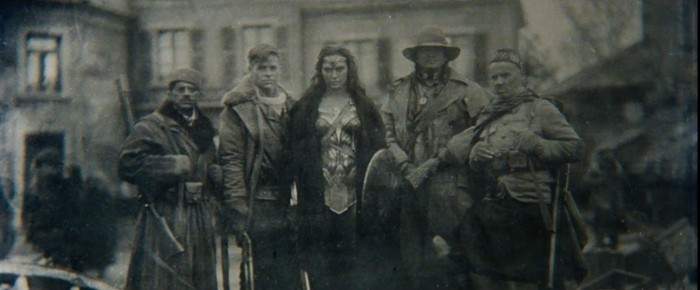 Remember that really silly scene in Batman v Superman: Dawn of Justice where the film literally pauses in the middle of the climax so Diana can peruse Lex Luthor's metahuman files? Well, here's the same image that Luthor found and Batman stole and Diana saw. It served as an indication of her true nature in that film and it looks like it'll be the flashback-triggering device here.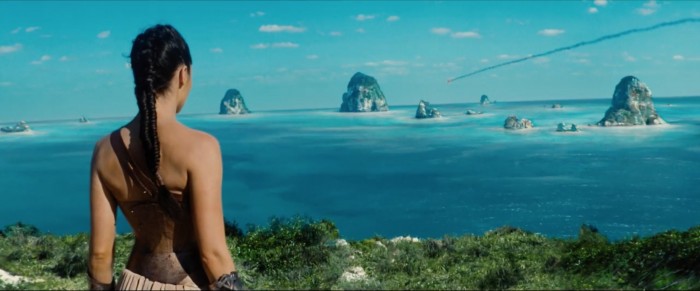 We'll get to Themyscira and Wonder Woman's color palette very enough. For now, let's just focus on how this image is taken straight out of the the character's classic origin story: an Amazonian warrior who lives on a mystical island inhabited only by women, witnesses a plane (technology she has never seen before!) crash land...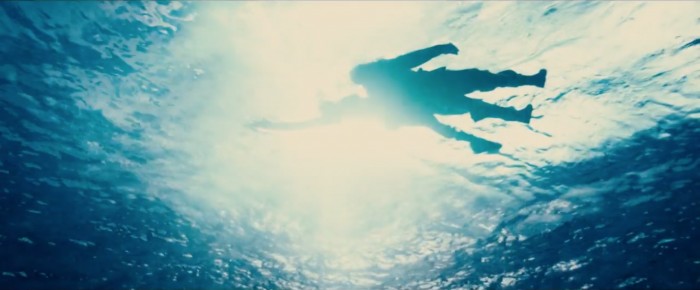 ...and one survivor, a soldier named Steve Trevor (Chris Pine), is pulled from the wreckage. The story of the Wonder Woman movie seems to be mostly original, sending Diana and Steve on a mission that has no direct correlation in the comic book world, but the basic template of how these two met and how she ends up leaving her home for the violent "man's world" beyond appears to be mostly intact. And that's a good thing – unlike the early days of Superman and Batman, this is a story that hasn't been done to death on screen.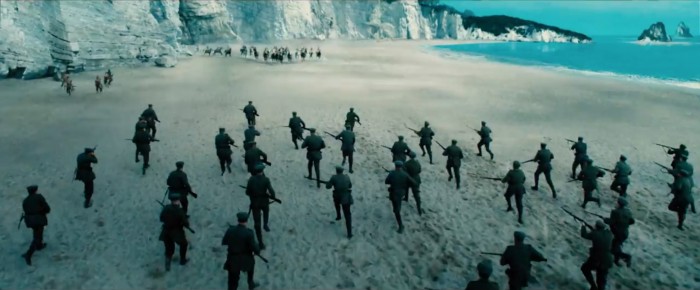 But this is where the movie appears to start playing fast and loose with the finer points of Wonder Woman's origin story. Rather than Diana's curiosity about the outside world, it looks like everyone is spurred into action by an actual invasion of the island by enemy forces. Maybe they're seeking Steve Trevor, whom everyone seems to be out to kill in this trailer?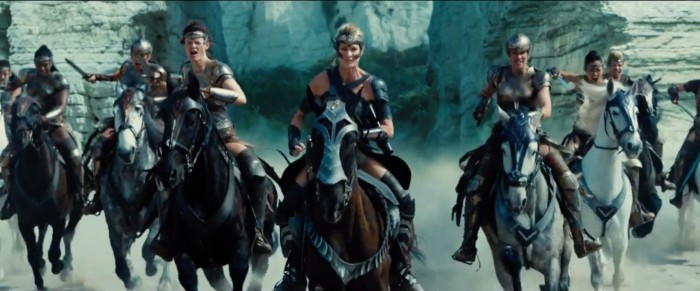 In any case, it's a good excuse to watch Amazon warriors gallop into battle against a small army of World War I-era soldiers, an image that is just too good to pass up. Leading the charge is General Antiope (Robin Wright), the sister of Queen Hippolyta and Diana's aunt. I can't believe we're getting a movie where Robin Wright leads a cavalry charge dressed like a warrior out of Greek mythology. Two thumbs up, Wonder Woman.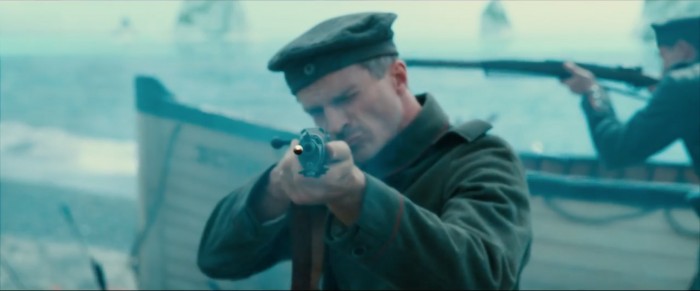 One thing Wonder Woman does look to have in common with past DC superhero movies is the slow motion. Let's not ignore it: there is a lot of slow motion in this trailer. This could be a Zack Snyder note (the man loves his stylized slo-mo) or it could be director Patty Jenkins slowing down time to show off Diana's superhuman senses and awareness, offering us a look at how she's able to do things like deflect bullets and make it look easy. Or it could be both.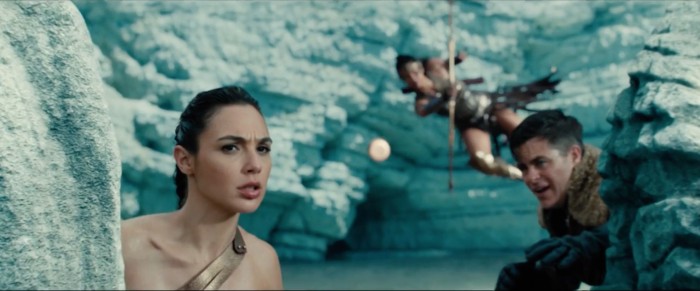 I'm not sure who the woman zip-lining into battle is supposed to be (and if you do know, feel free to chime in with a comment!), but it looks like she flew into battle at the exact wrong moment. If Diana's narration is any indication ("I learned this the hard way, a long, long time ago"), this is someone close to her whose death by stray bullet gives her the necessary determination to join Steve Trevor's quest to end the Great War enveloping the outside world.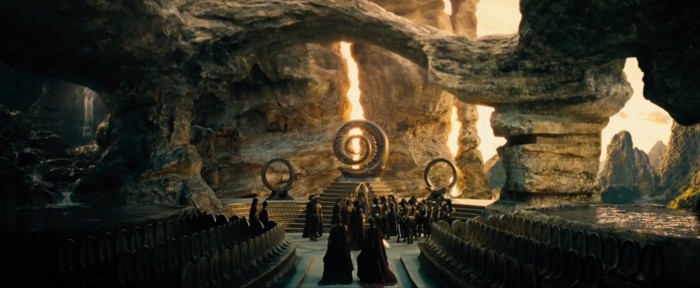 Let's talk about the film's representation of Themyscira, the mystical home of the Amazons where Diana and her people live far from the eyes and conflicts of modern man. The shots we see of it in the trailer are lovely, evoking ancient Greece and Rome while also containing enough fantastical touches to look like its own civilization. Most importantly, it looks like a paradise and the exact kind of place you'd want to fight to preserve.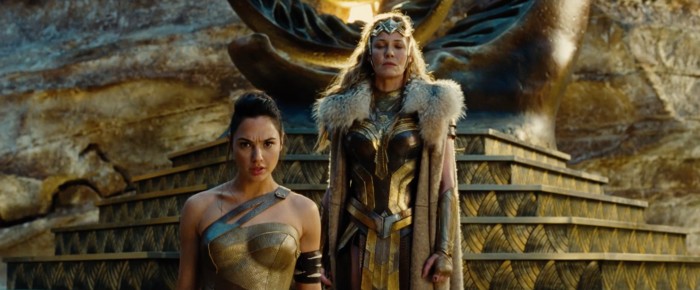 The focus of this scene is Steve Trevor, who is informing his hosts of the conflict raging beyond their borders and his mission to "stop the war." Rather than just an ordinary grunt tossed into an extraordinary situation, it sounds like cinematic Steve Trevor is a figure of great importance, a guy who needs to be protected. And also: how great does Connie Nielsen look as Queen Hippolyta, Diana's mother and ruler of Themyscira?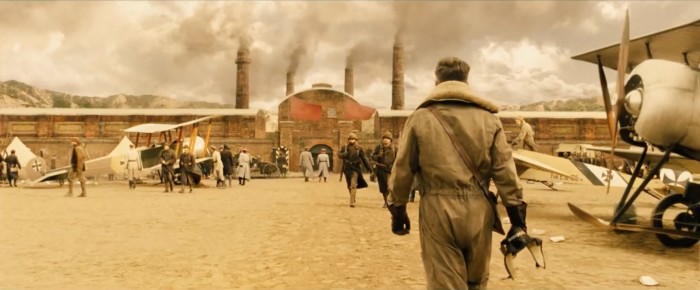 While it's set a couple of decades before the late '30s/early '40s settings of The Rocketeer and Captain America: The First Avenger, Wonder Woman gives me a similar vibe. There are few things that please me quite like watching fantastical genre tales set in the first half of the 20th century, a time of great change, great horrors, and unlimited possibilities. Modern day stories, where everything can be seen with a satellite, lack the wonder (pardon the pun) of an era where the world was beginning to open up, but still remained mysterious.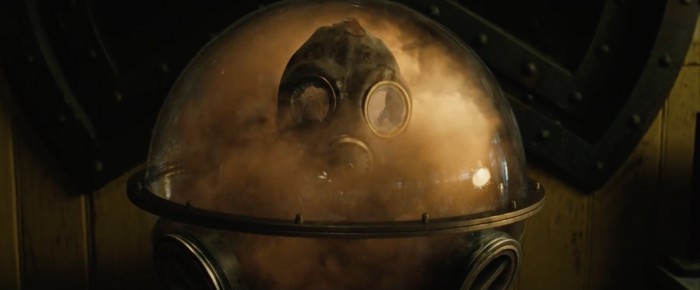 One thing the trailer makes clear is that there's more going on beyond World War I, which should be enough conflict for a dozen films, but hey, this is a comic book movie. At least Wonder Woman appears to be directly tying the threat to the actual horrors of the period, namely chemical weapons...even if those chemical weapons appear to have been science fiction-ed to the point where they destroy a gas mask before getting to work on the person within.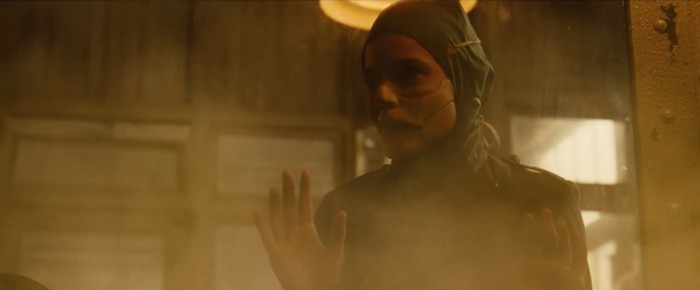 So who is this? In the real world, she's Elena Anaya, a Spanish actress whose credits include The Skin I Live In and The Infiltrator. In the case of Wonder Woman, it's not entirely clear. Her character was not revealed when she was cast, but her moments in the trailer indicate that she's up to no good. The mask covering the lower half of her face resembles the actual medical appliances that were used to cover up injuries at the time, which indicates that she has seen her fair share of combat. There are definite shades of Boardwalk Empire's Richard Harrow in her character design...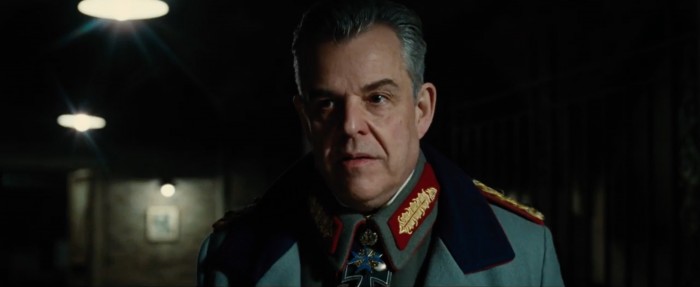 Speaking of characters whose identities remain under lock and key, here's Danny Huston as...someone! The fact that he's wearing a German uniform (and the fact that he's played be Danny Huston) suggests that this guy is our chief villain, but nothing about him is unveiled in the trailer. However, early buzz had suggested that Wonder Woman's main baddie was Ares, the God of War. Could Huston be playing that role? After all, it would be a fascinating turn if an ancient deity who thrives on carnage had integrated himself into the war machine of one of mankind's greatest conflicts to stoke the fires of war and keep himself powerful...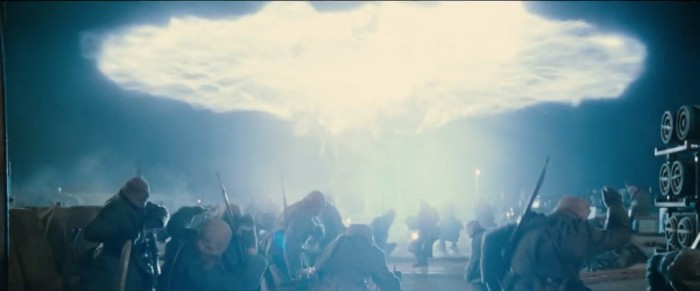 Period setting or not, Wonder Woman is still a comic book movie, which means it will still have things like sky portals and science fiction explosions. Those are the rules. It also gives us more to chew on about what Danny Huston's lead villain may be up to and what kind of technology (or is it magic?) he may possess.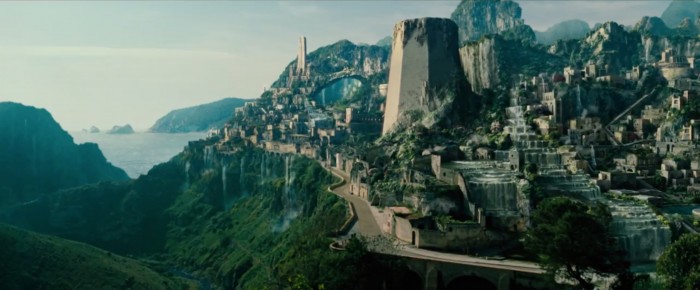 This lovely shot of Themyscira is a good excuse to talk about the film's color palette, which is bright and varied and so very different from the likes of Batman v Superman and Suicide Squad. Although the war scenes resort to that typical bleached look (which is a war movie thing and a DC movies thing), they're surrounded with shots where the colors are vibrant and beautiful, providing those desolate battlefields with a contrast. If war is a colorless hell, Wonder Woman looks to show us the world worth fighting for.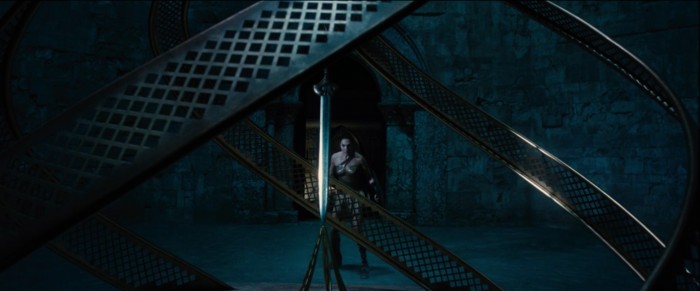 If you were hoping Wonder Woman would get a suiting-up montage, it certainly looks like you won't leave disappointed. The change here seems to be that Diana absconds with her weapons and armor rather than accepting them as gifts from her fellow Amazons.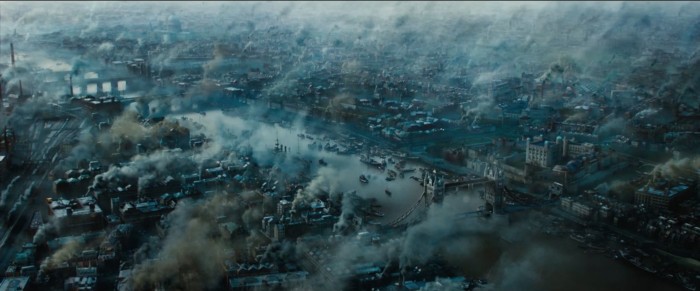 Here's an example of that color contrast at work. This smoggy modern skyline looks appropriately grotesque after looking upon that pristine Themyscira skyline.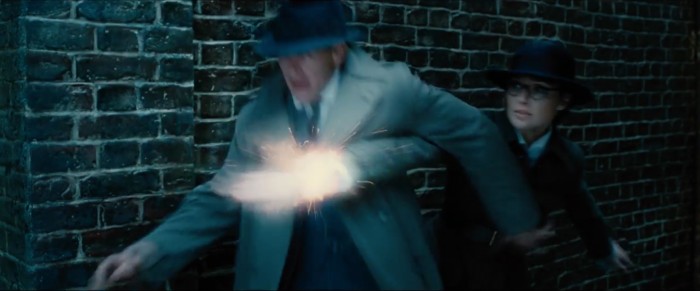 While Steve Trevor is a war hero and a capable soldier, he's no superhero. Watching him get protected by Diana could be one of the film's highlights, especially if Pine is willing to forego ego and let himself be the damsel in distress. The little yelp he gives after Diana deflects a bullet meant for him suggests that he may be game for that.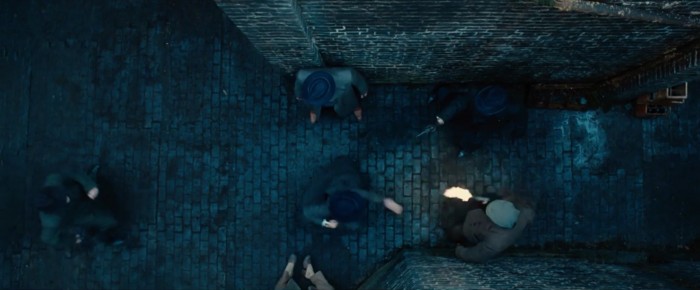 Wonder Woman is, by the very nature of her existence, a feminist character, so watching her protect a man from a team of hitmen while posing as a secretary in an age where women were still fighting to vote is a stirring image. In other news: this overhead shot is pretty nifty.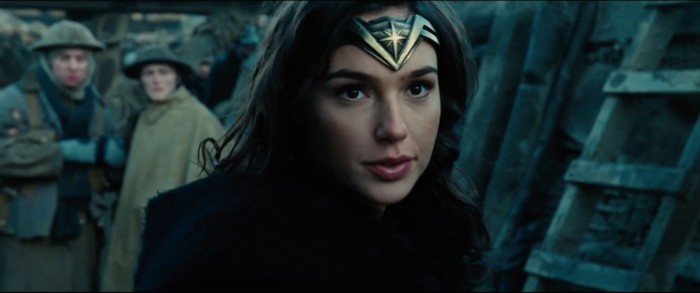 One of the failures of Batman v Superman was that it failed to take advantage of its own iconography, never giving Batman (and his fantastic new suit) a proper introduction. These characters and their looks mean something to millions of people all over the world. Lean on it! It remains to be seen how the final film will work, but this trailer is full of shots that take full advantage of Wonder Woman's costume and recognizable traits. Seeing that iconic headband in a World War I trench is just the tip of the iceberg...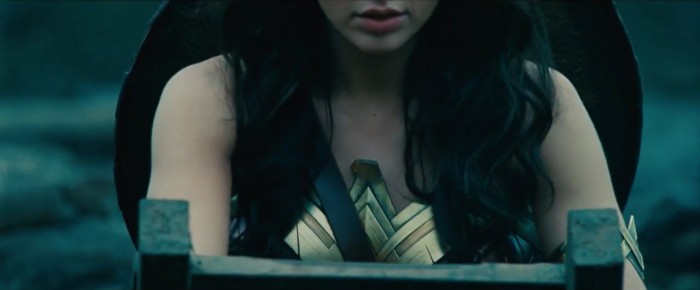 I especially love the shots of Diana stepping out of the trench with the boldness and confidence you would never see from an actual soldier fighting in World War I. Watching how Jenkins teases her armor, only offering glimpses over a series of shots, is a strong indication that she knows how vital this character's iconography truly is.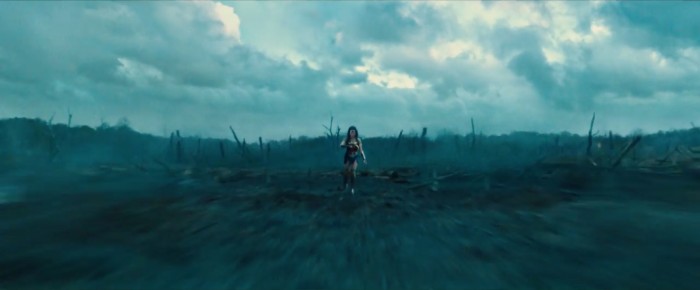 World War I is an inspired choice for the setting of Wonder Woman for one simple reason: World War I, to put it bluntly, sucked. It was not fought for righteous reasons. There were no clear good guys and bad guys. The tales of actual heroics, of brave men overcoming the odds, are few and far between. It was just a bloody and horrifying grind that chewed up and spit out an entire generation for reasons that were so nonsensical that it's sometimes hard to determine why anyone was fighting. Placing one of pop culture's most hopeful characters in the midst of one of history's most senseless conflicts feels genuinely powerful. Oh, and this is another slow motion bullet shot...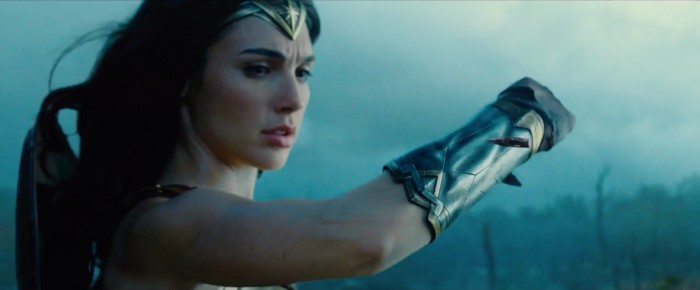 ...that leads to this incredible image of Diana deflecting the round with her bracelet. Okay, that's the Wonder Woman image everyone has been waiting for.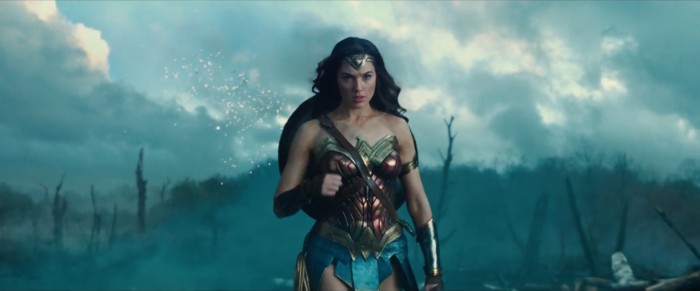 While the battlefield surrounding her is as grey and bleached as anything seen in Batman v Superman, Wonder Woman's costume itself is allowed to remain to retain its colors. The contrast is satisfying and inherently optimistic – she's a beacon of hope in a hell on earth.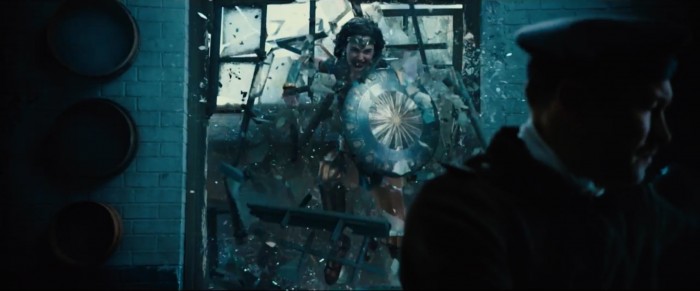 I really don't have anything to say here except "Gal Galdot looks really cool when she leaps through windows."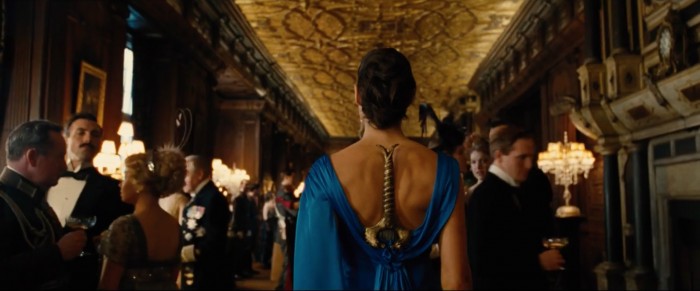 Gal Gadot seems to wear a half-dozen different outfits in this trailer alone, all of them serving a distinctive purpose. This one's purpose seems to be "extravagant dress party and battle ready."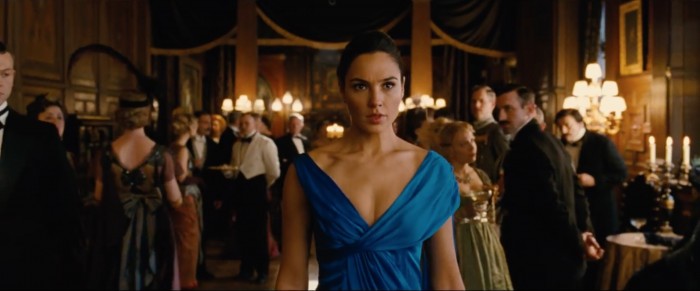 Am I allowed to say "fierce"? Is that still a thing? No? Okay.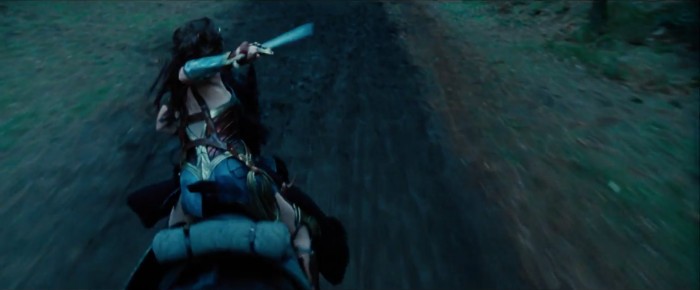 World War I was one of the last major 20th century conflicts to still utilize cavalry and the results were often surreal. Remember that scene is Steven Spielberg's underrated War Horse where Tom Hiddleston leads a cavalry charge against a line of enemy machine guns, only for everyone to get wiped out in the blink of an eye? This odd moment in history, where the old tactics of war butted against modernized weapons, is perfect for Diana, who can apply her tried-and-true Amazon battle tactics to a 20th-century battlefield.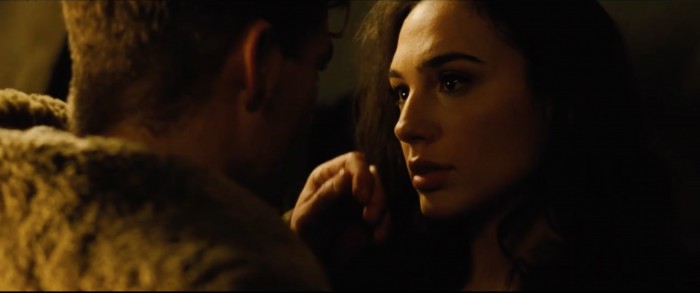 Okay, I'm pretty sure we all knew that Diana and Steve Trevor were going to fall for each other. That's the way it's always been: the tough but breakable soldier and the immortal warrior find a connection. Still, this relationship will be different from its comic book counterpart by default. In the current DC comics continuity, Steve Trevor is still very much alive (and the two of them have recently gotten back together after some time apart). That would be impossible in the movies, since Steve will be long dead before the events of Batman v Superman and Justice League. So instead of being an ongoing love interest, he's going to be her one-off lover, the guy from the past whom she can never forget and so on and so forth.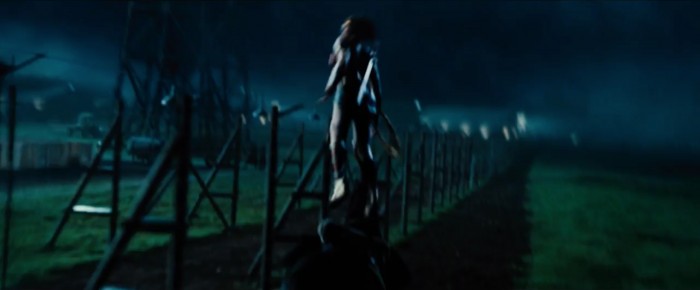 In which Gal Gadot does her best impression of Steve McQueen's motorcycle in The Great Escape! In all seriousness, it looks like the big climax of Wonder Woman will center around a raid on a German military base full of science fiction gadgetry and those weird white portal explosions that only exist in superhero movies.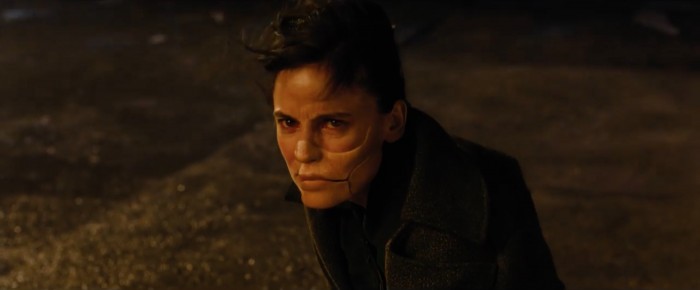 Here's a better look at Elena Anaya's mystery character. Yep, she still looks like she's up to no good.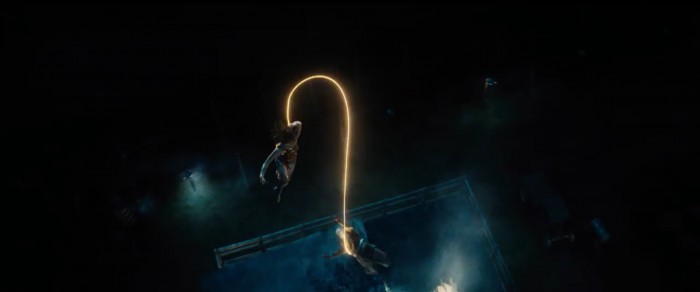 Here's one of our few glimpses of Diana's trademark weapon: the lasso of truth, an unbreakable rope that compels anyone bound with it to obey its wielder. We saw her use it in the final battle with Doomsday in Batman v Superman, but it should get more of a spotlight here. But let's focus on whom she's using the lasso on! It certainly looks like Danny Huston's character and the fact that she's literally flinging him through the air with her supernatural weapon of choice only lends credence to him not being quite human.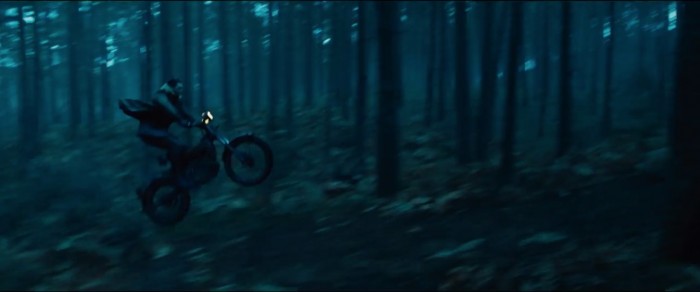 Between this and Star Trek Beyond, it's really starting to look like action sequences involving acrobatic motorcycles are Chris Pine's thing.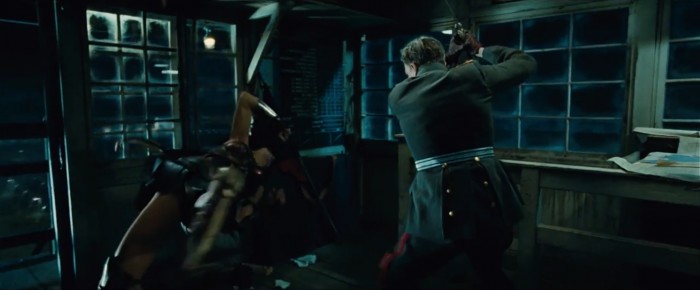 Here's another shot of Wonder Woman battling Danny Huston's mystery villain in hand-to-hand combat. Note that he's choosing to fight an Amazon warrior who can deflect bullets and pummel armies of men with a sword. Come on: there is no way this guy doesn't have a few superpowers of his own.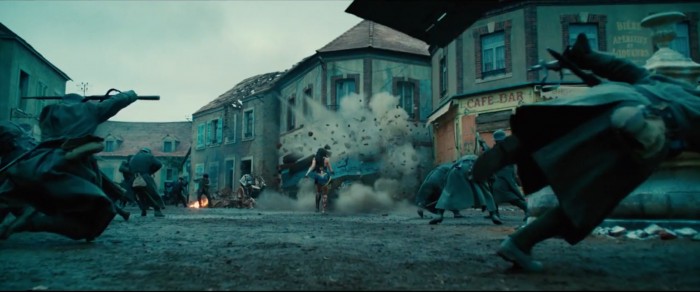 I really don't have anything to say here except "I can't get over how great Wonder Woman's costume looks when she's the only colorful thing in a frame that has otherwise been drained of color."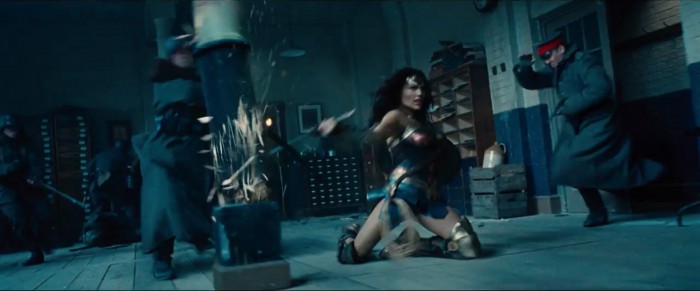 I really don't have anything to say here except "The flashes of action we get in this trailer are really quite good, looking like they take full advantage of Wonder Woman's skill set and how she's battling an enemy who fights in a very different way than she does."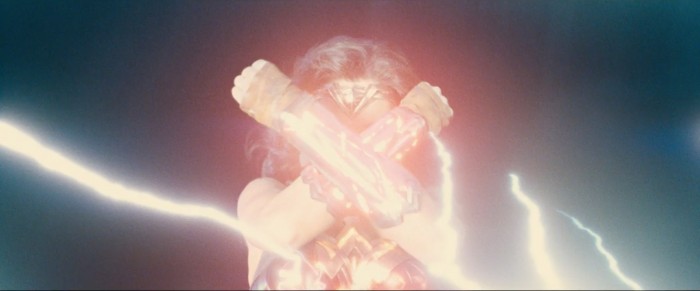 Yep, this one had to be here: the iconic Wonder Woman pose. The question now: what is she defending herself from? And why is it generating bright light and electricity?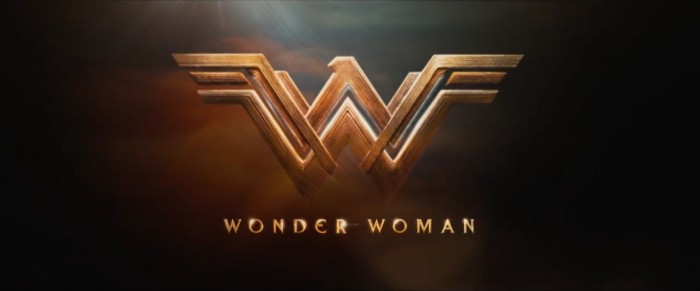 Hans Zimmer and Junkie XL's Wonder Woman theme, the best thing to come out of Batman v Superman, makes its triumphant return over the film's title. In a world where not enough superheroes have instantly recognizable theme music, this is a real treat.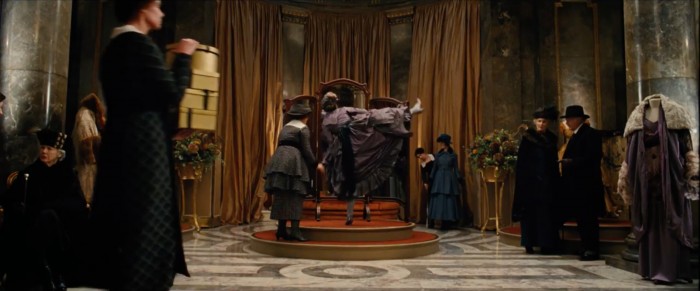 Remember the days when everyone was worried about DC movies being too po-faced and self-serious? This final bit between Gal Gadot and the delightful Lucy Davis (as Etta Candy, Steve Trevor's secretary) is cute and funny just plain nice, offering insight into both characters. Bring this movie on.