'La La Land' Trailer: Ryan Gosling And Emma Stone Get Romantic (And Musical)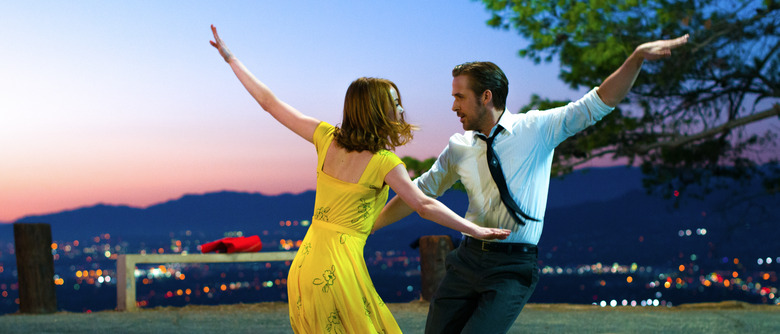 We're guessing a large number of you have been in the bag for La La Land since the moment it was announced, based solely on the talent and premise. It's an old-fashioned musical romance (albeit one set in the modern day) from Whiplash wunderkind Damien Chazelle, starring two of the most appealing actors working today, Emma Stone and Ryan Gosling. What's not to like, right?
So for those of you, this La La Land trailer probably isn't so much a chance for you to make up your mind about whether you want to see this thing, as it is an opportunity for you to get excited all over again. And the good news is that it still looks great. Watch the La La Land trailer below.
La La Land Trailer
I caught La La Land at TIFF, and am happy to say it's probably everything you'd want from a movie like this. The opening is one of the most joy-inducing sequences I've seen onscreen all year, and it casts a spell that lasts for the next two hours. More, even: I left La La Land humming the main theme, and for a while it made the world seem a little bit brighter.
La La Land is a proper musical, not just a movie with occasional musical numbers like Frozen, and each of those sequences is stunning to behold. Chazelle isn't afraid to get fanciful, but he also knows when to pull back — the real showstopper in this movie is the most sparsely staged song of all. You can read my full review from TIFF here. Tl;dr: yep, get hyped for this one.La La Land opens December 9, 2016.
Written and directed by Academy Award® nominee Damien Chazelle, LA LA LAND tells the story of Mia [Emma Stone], an aspiring actress, and Sebastian [Ryan Gosling], a dedicated jazz musician, who are struggling to make ends meet in a city known for crushing hopes and breaking hearts. Set in modern day Los Angeles, this original musical about everyday life explores the joy and pain of pursuing your dreams.