'The Girl With The Dragon Tattoo' Sequel Is Pursuing 'Don't Breathe' Director Fede Alvarez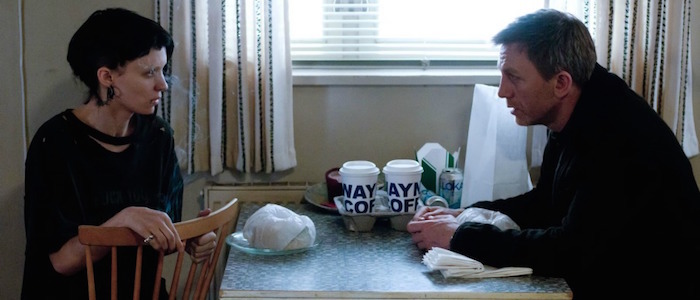 It's been five years since The Girl With the Dragon Tattoo failed to kickstart a franchise, doing solid business at the international box office while leaving audiences divided. David Fincher's take on Stieg Larsson's bestselling novel was icy, cruel, and deliberately anticlimactic, a deconstructive thriller programmed to dodge expectation and decimate the satisfaction that usually accompanies mystery stories. I loved it and still love it, but it doesn't surprise me at all that audiences were divided and that a sequel never materialized.
But approximately one year ago, we learned that Sony wasn't giving up on the further adventures of Mikael Blomkvist and Lisbeth Salander just yet. And adaptation of The Girl in the Spider's Web, the fourth book in the series, was put into development...and now Fede Alvarez is being courted to direct.
Variety reports that Sony is eager to stay in the Fede Alvarez business and for good reason. His summer horror movie Don't Breathe was produced for only $10 million and ended up grossing just over $150 million worldwide while also earning critical accolades. It's a grim movie that also manages to be a crowd-pleaser and Alvarez's precise, technically astonishing direction does make him feel like the heir to Fincher's throne. He's a strong fit for another icy, brutal tale of Swedish murder and mystery.
However, it should be noted that Alvarez has yet to actually sign on the dotted line for this project. When I interviewed him earlier this year, he spoke about how much he enjoyed the freedom of getting to make an original movie, explaining that his work on the (very good) Evil Dead remake was akin to being polite while visiting someone else's house – you have to respect your host and can't fully cut loose. That makes me wonder if he's even interested in taking on a wounded franchise that will see more than a few eyes looking over his shoulder at all times. Then again, The Girl in the Spider's Web is the kind of movie that could ensure his next original screenplay (whatever it may be) moves forward with Sony's backing...
The Girl in the Spider's Web will skip Larsson's second and third novels in the Millennium series, both of which have Swedish adaptations, and take on the fourth book, which was written by David Lagercrantz and published in 2015 (Larsson died in 2004). Steven Knight is currently working on the screenplay. Daniel Craig and Rooney Mara are not expected to reprise their roles as Blomkvist and Salander. Unless they are. It's all very confusing, especially since there were rumors of Sony wanting Alicia Vikander to take over for Mara, whose original performance was nominated for an Oscar.
Here's the synopsis of the book, which certainly sounds like it falls in line with the other stories in this series:
She is the girl with the dragon tattoo—a genius hacker and uncompromising misfit. He is a crusading journalist whose championing of the truth often brings him to the brink of prosecution.
Late one night, Blomkvist receives a phone call from a source claiming to have information vital to the United States. The source has been in contact with a young female superhacker—a hacker resembling someone Blomkvist knows all too well. The implications are staggering. Blomkvist, in desperate need of a scoop for Millennium, turns to Salander for help. She, as usual, has her own agenda. The secret they are both chasing is at the center of a tangled web of spies, cybercriminals, and governments around the world, and someone is prepared to kill to protect it . . .