Stephen King's 'The Dark Tower' Delayed To Summer 2017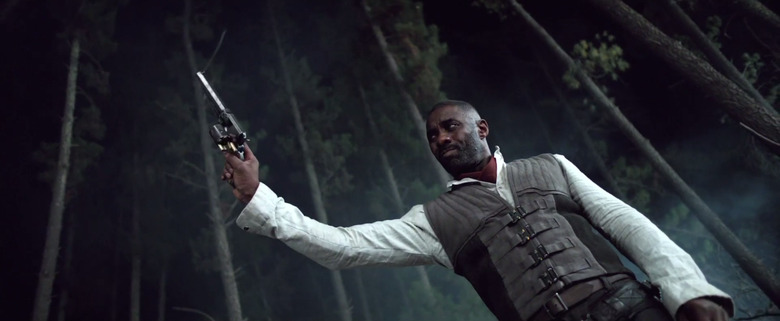 After so many years of on-again, off-again development, Sony's The Dark Tower adaptation finally went into production this year, wrapping up over the summer under director Nikolaj Arcel. But it looks like fans will have to wait a little bit longer to see the results. The fantasy saga has reportedly been postponed from to summer 2017. Find out why below. 
Entertainment Weekly reports The Dark Tower, which was previously slated for February 17, 2017, will now open summer 2017. No exact release date has been announced, as Sony is still trying to choose a weekend. The decision was made to allow additional time for VFX work. Although the shoot wrapped up in July as scheduled, the filmmakers have discovered that their post-production timetable was too "aggressive" and "overly ambitious." The Dark Tower has a budget of just $60 million, and the powers that be decided it wasn't worth the extra cost to rush post-production.
The news should not come as a huge surprise. The Dark Tower had originally planned to unveil its first trailer in October, but then quietly cancelled those plans. That means three months out from the movie's previously announced premiere, it's yet to release a single second of footage. That seems unusual for a movie intended to launch a major franchise spanning several films and a spinoff TV series.
So in addition to giving the VFX team more room to work, the summer release date should give Sony some extra time to mount a promotional campaign. And they might need it, because The Dark Tower seems like it could be a tough sell to audiences who aren't already enamored of Stephen King's sci-fi/fantasy/Western/horror epic. The story centers on Roland (Idris Elba), a dimension-hopping gunslinger (gunslingers being a sort of mashup of cowboy and knight tropes) on a mission to reach a mysterious tower at the center of the universe. Matthew McConaughey plays his adversary, the Man in Black.
I've gotta say, there's something oh-so-appropriate about The Dark Tower getting pushed back again. Roland the gunslinger's journey to the tower is a difficult and dangerous one that takes him far longer than he might have reasonably expected. Why should The Dark Tower's path to the big screen be any different? The Dark Tower has been in the works for years, cycling through different studios and directors and leading men. If fans can stay patient just a little bit longer, they can look forward to being rewarded in the not-too-distant future.