Cool Stuff: Mondo's "Home" Series Takes You Back To Horror's Creepiest Houses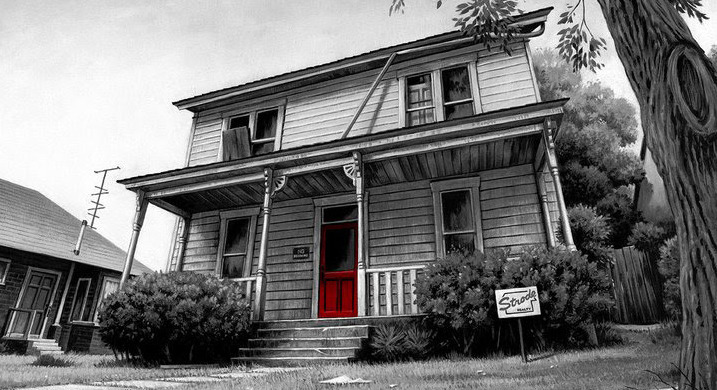 MondoCon might be over, but that doesn't mean there aren't still some gorgeous prints to pick up from the collectible arthouse. Mondo opened up their latest show "Home" by Jason Edmiston and Ken Taylor last month as a kick off to the art convention, and it's on display through November 5th. But for those who can't check out the gallery, you can get your hands on some of the prints today for movies like Halloween, A Nightmare on Elm Street 3: Dream Warriors, The Birds and Metropolis.
Check out the Jason Edmiston and Ken Taylor Home prints after the jump.
Here are the prints from the Home exhibit that will be on sale at a random time today:
Both Halloween and A Nightmare on Elm Street 3 are 24x18 screen prints by Jason Edmiston that will be hand-numbered with an edition of 325 and they'll cost you $45 each. The Birds by Ken Taylor measures 24x36 with a hand-numbered edition of 325 that will cost $45 and Metropolis by Ken Taylor has a 24x36 hand-numbered edition of 225 that will cost $45. The Birds also has a variant that will have an edition of 175 and cost $65 while the Metropolis variant will have an edition of 125 and will also cost $65.
Jason Edmiston had this to say about the new exhibit:
"With the new gallery show, I wanted to challenge myself. My comfort zone obviously lies in portraiture, but I wanted an incentive to broaden my abilities while staying true to subjects I adore...For this show, I expanded the concept by tackling a wide variety of houses or what could essentially be considered homes from well known horror properties using a punch of red to highlight a significant element."
Ken Taylor also added:
"Being part of this show with someone as masterful as Jason is both an honor and absolute terror. I am a huge fan of his work, and sharing the stage with him really pushed me to my absolute limits."
These are some stellar, detailed prints, so make sure you stay tuned to @MondoNews to find out when they go on sale so you can try to get your hands on them.