Unused Concept Art Sends The Original 'Ghostbusters' To The Gates Of Hell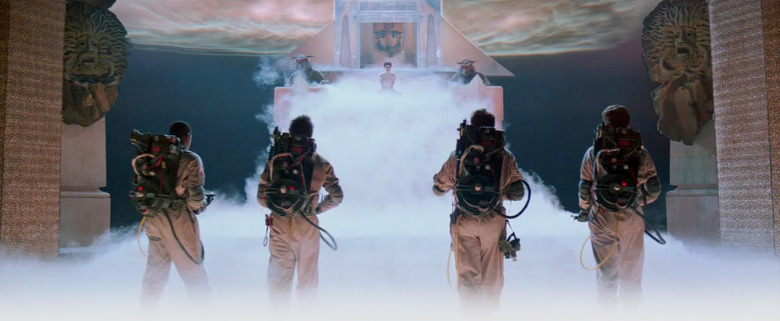 At one time, there was a concept for a third Ghostbusters movie that would have taken the paranormal exterminators to an alternate version of Manhattan called Mahelltan, a dark twisted version of the New York borough. However, the Ghostbusters almost had another hellish encounter in the original movie from 1984.
There was once an idea for the ending of Ghostbusters to take Venkman, Ray, Egon and Winston to the gates of hell. Now fans can check out some of the concept art for this sequence that didn't make the final cut of the movie, and was never actually even filmed.
Check out the Ghostbusters gates of hell concept art in this little featurette:
The above video is an extra that comes from a Kickstarter trying to fund a limited edition art portfolio of the illustrations of Bernie Wrightson. If that name doesn't mean anything to you, he just so happened to be a concept artist on Ghostbusters, and in this video he talks about some of the pieces he made that went unused. Take a closer look at those pieces here:
In addition to the gates of hell sequence, which looks like it would have been even more visual effects heavy than what we got in the actual ending of the original 1984 movie, you can see some alternate designs for the terror dogs and the ghost from the library. I wish more of this art were saved so that we could check it out and see what other alternate designs we could have gotten.
If you're interested in the Bernie Wrightson art portfolio Kickstarter, you can learn more over here.