'Beauty And The Beast' First Look Photos [UPDATED With Hi-Res Images]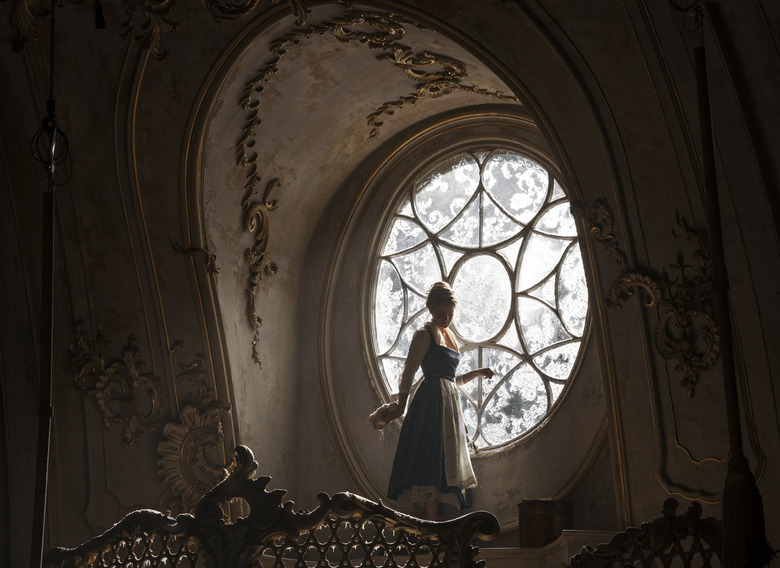 As a live-action remake of an animated movie practically everyone has seen, Bill Condon's Beauty and the Beast probably doesn't have too many shocking revelations in store for us. Still, fans have been dying to know what Emma Watson and Dan Stevens would look like as the central pairing, and today we finally get to find out. A new Beauty and the Beast first look photo shows Watson and Stevens recreating one of the most iconic moments from the 1991 film, Beauty and the Beast's ballroom dance. Check it out below.
UPDATE #1: A new batch of photos shows Gaston, Lefou, Maurice, Cogsworth, Lumiere, Plumette, and Mrs. Potts. Click through to take a look.UPDATE #2: Disney has released hi-res photos from Beauty and the Beast. See them all below.
Stevens looks kind of odd as the Beast, but that was probably inevitable. There's just no way to make a giant furry CG man-beast not look weird in a "live-action" movie. Watson, on the other hand, looks picture-perfect as Belle, right down to that glorious buttercup-yellow gown. The decision to cast Hermione as Disney's most bookish princess is so perfect, it seems almost too obvious. After seeing the kind of magic Disney conjured up in their live-action Cinderella remake, we've got every reason to be optimistic about their new spin on Beauty and the Beast.
Although this is our first really good look at Beauty and the Beast, there's sure to be much more in the coming days. With Beauty and the Beast slated for release in just four months, Disney's marketing campaign is about to kick into full gear. So stay tuned.
In addition to Watson and Stevens, he cast also includes Kevin Kline as Belle's dad Maurice, Luke Evans as Belle's arrogant would-be suitor Gaston, and Josh Gad as Gaston's sycophantic sidekick Lefou. The members of the household staff are Ewan McGregor as Lumiere the candelabra, Ian McKellen as Cogsworth the clock, Emma Thompson as Mrs. Potts the teapot, Gugu Mbatha-Raw as Plumette the feather duster, Audra McDonald as Madame Garderobe, the wardrobe, and Stanley Tucci as Maestro Cadenza, the harpsichord.
Beauty and the Beast is in theaters March 17, 2017.
Disney's "Beauty and the Beast" is a live-action adaptation of the studio's animated classic which refashions the classic characters from the tale as old as time for a contemporary audience, staying true to the original music while updating the score with several new songs. "Beauty and the Beast" is the fantastic journey of Belle, a bright, beautiful and independent young woman who is taken prisoner by a beast in his castle. Despite her fears, she befriends the castle's enchanted staff and learns to look beyond the Beast's hideous exterior and realize the kind heart and soul of the true Prince within.