New 'Doctor Strange' Clip Shows Off A Chase That Would Make M.C. Escher Blush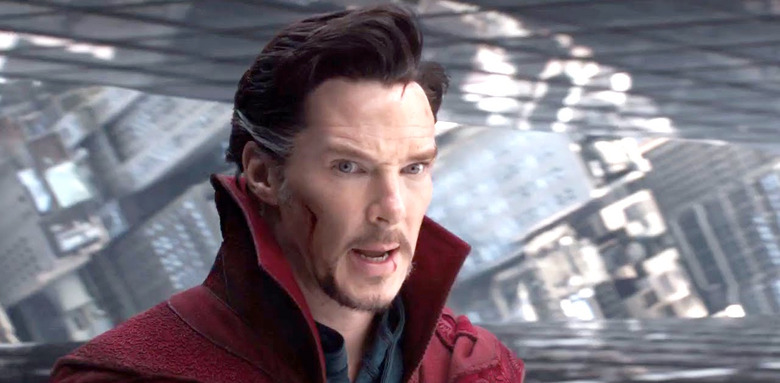 We're just two days out from Doctor Strange hitting theaters all over the United States (with some screenings arriving tomorrow evening). The film has already been pulling in some decent cash overseas after hitting plenty of international territories last weekend, and it's bound to have a good weekend at the domestic box office as well.
However, it seems like Marvel maybe needs to make a little more of a marketing push than they usually do, if only because Doctor Strange isn't quite as well known of a character as their other franchise starters. Their latest effort is a Doctor Strange clip that finds our villain Kaecilius (Mads Mikkelsen) and his minions chasing after Strange (Benedict Cumberbatch) and Baron Mordo (Chiwetel Ejiofor). Making this chase all the more interesting is the manipulation of the city around them so that its basically a pursuit through a metropolis designed by M.C. Escher.
Watch the Doctor Strange chase clip after the jump.
The visuals on display in this two minute segment of what is presumably a much longer action sequence looks to be reason enough to see this movie in IMAX 3D. I can't wait to see the depth that some of these tumbles through the air have on the immersive giant screen. If you need anymore convincing, then you might want to watch the recent IMAX featurette for Doctor Strange that just hit the web recently.
As we've heard from the early reviews, these visuals and the action that comes with them is what helps a familiar origin story work well as an entertaining blockbuster. This could very well be the key to continuing the Marvel cinematic universe smoothly after Robert Downey Jr. inevitably steps down from his mantle as Iron Man. But we're getting ahead of ourselves. Let's just focus on director Scott Derrickson's opening of the mystical part of the Marvel cinematic universe coming this week.
From Marvel Studios comes "Doctor Strange," the story of world-famous neurosurgeon Dr. Stephen Strange whose life changes forever after a horrific car accident robs him of the use of his hands. When traditional medicine fails him, he is forced to look for healing, and hope, in an unlikely place—a mysterious enclave known as Kamar-Taj. He quickly learns that this is not just a center for healing but also the front line of a battle against unseen dark forces bent on destroying our reality. Before long Strange—armed with newly acquired magical powers—is forced to choose whether to return to his life of fortune and status or leave it all behind to defend the world as the most powerful sorcerer in existence.
Doctor Strange opens in US theaters on November 4.