Zach Galifianakis And New Cast Join Ava DuVernay's 'A Wrinkle In Time'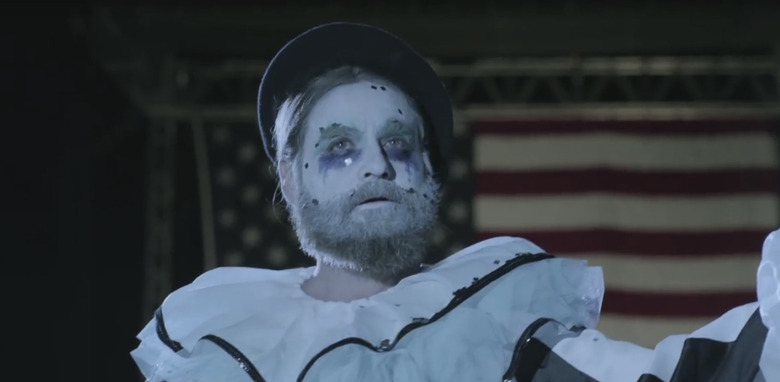 The cast for director Ava DuVernay's A Wrinkle in Time adaptation keeps getting better and better. The film is already set to star Mindy Kaling, Reese Witherspoon, Oprah Winfrey, Chris Pine, Gugu Mbatha-Raw, and in the lead role, Storm Reid. A few more additions to the cast have been announced, including Zach Galifianakis, who we most recently saw in Keeping Up with the Joneses. Below, learn more about the Zach Galifianakis A Wrinkle in Time casting.
The Hollywood Reporter writes that Zach Galifianakis is playing Happy Medium. In Madeleine L'Engle's novel, Happy Medium lives on a foggy gray planet in Orion's Belt. The medium is human and female in appearance, but DuVernay and screenwriter Jennifer Kent (Frozen) clearly have some new ideas for the jolly character. Happy Medium uses a crystal ball to see faraway places and people, and she helps Meg (Storm Reid), Meg's younger brother Charles (Deric McCabe), and Meg's schoolmate, Calvin O'Keefe (Pan's Levi Miller), understand the threat they're facing.
In A Wrinkle in Time, Meg, a 13-year-old whiz kid outcast, searches the universe with Charles and Calvin for her father (Chris Pine), a government scientist gone missing after developing a mystery project called a tesseract, known as a wrinkle in time. During the kids' adventure, they receive help from three fantastical beings, Mrs. Which (Oprah Winfrey), Mrs. Whatsit (Reese Witherspoon), and Mrs. Who (Mindy Kaling).
Zach Galifianakis recently starred in two movies that underperformed at the box-office and were mostly panned by critics. Both the long-delayed Masterminds and Keeping Up with the Joneses failed to find much of an audience, but the star of FX's Baskets has one movie coming out soon, The Lego Batman Movie, that seems destined for success, but we'll see. Next up for the actor is A Wrinkle in Time, which begins shooting this month.
After The Hollywood Reporter ran a story on Galifianakis's casting, Disney sent out a press release confirming his role, in addition to other actors joining the project. Two new notable additions to the cast are André Holland as Principal Jenkins and Levi Miller as Calvin. Holland had a role in DuVernay's Selma, but right now he's probably best known for his phenomenal performance in Moonlight.
Here's a summary of Madeleine L'Engle's novel, which is part one of the five-part Time Quintet series:
It was a dark and stormy night; Meg Murry, her small brother Charles Wallace, and her mother had come down to the kitchen for a midnight snack when they were upset by the arrival of a most disturbing stranger. "Wild nights are my glory," the unearthly stranger told them. "I just got caught in a downdraft and blown off course. Let me sit down for a moment, and then I'll be on my way. Speaking of ways, by the way, there is such a thing as a tesseract." A tesseract (in case the reader doesn't know) is a wrinkle in time. To tell more would rob the reader of the enjoyment of Miss L'Engle's unusual book. A Wrinkle in Time, winner of the Newbery Medal in 1963, is the story of the adventures in space and time of Meg, Charles Wallace, and Calvin O'Keefe (athlete, student, and one of the most popular boys in high school). They are in search of Meg's father, a scientist who disappeared while engaged in secret work for the government on the tesseract problem.
A Wrinkle in Time's release date is TBD. The full press release follows:
BURBANK, Calif. (Nov. 1, 2016) – Production for Disney's upcoming epic, live-action adventure "A Wrinkle in Time" kicks off tomorrow in Los Angeles starring Oprah Winfrey ("Selma", "The Butler") as Mrs. Which, Reese Witherspoon ("Wild, "Walk the Line") as Mrs. Whatsit, Mindy Kaling ("The Mindy Project," "Inside Out") as Mrs. Who, Chris Pine ("Star Trek Beyond," "Hell or High Water," "Into the Woods") as Mr. Murry, Gugu Mbatha-Raw ("Beauty and The Beast," "Belle") as Mrs. Murry, Zach Galifianakis ("Birdman," " The Hangover,") as The Happy Medium, André Holland ("Moonlight," "Selma") as Principal Jenkins, Levi Miller ("Pan") as Calvin, Deric McCabe as Charles Wallace, and introducing Storm Reid as the iconic literary character Meg Murry.
Bellamy Young, Rowan Blanchard and Will McCormack round out the highly acclaimed cast.
Directed by Ava DuVernay ("13th," "Selma"), the film is a reimagining of Madeleine L'Engle's classic novel that takes Meg Murry, her brilliant brother Charles Wallace and their friend Calvin on an unexpected journey into alternate dimensions on a mission to bring home their father.
"Since Day One, this experience has shimmered with the promise and possibility, the passion and power that only great stories offer," said DuVernay. "And Madeline L'Engle's book is a great story indeed. A cool, quirky tale of an imperfect girl on an otherworldly expedition that has been praised and banned, dissected and celebrated the world over for more than 50 years. On behalf of all the filmmakers, artists and craftspeople in our 'Wrinkle in Time' family, we are genuinely thrilled by and truly grateful for the opportunity to make this film together."
First published in 1962, L'Engle's novel has sold more than 23 million copies worldwide, receiving a recent surge following Chelsea Clinton's mention during the Democratic National Convention. Winner of the Newbery Prize in 1963, "A Wrinkle in Time" has been translated into 35 languages.
"A Wrinkle in Time" builds on Disney's strong track record of reimagining classic stories for a contemporary audience, with recent examples including "The Jungle Book," "Maleficent" and the upcoming "Beauty and the Beast."
Directed by DuVernay, the film is produced by Jim Whitaker ("Pete's Dragon") and Catherine Hand from a script written by Jennifer Lee ("Frozen"). Principal photography will take place primarily in California with two weeks of production in New Zealand.
Ava DuVernay's creative team also includes director of photography Tobias A. Schliessler ("Beauty and the Beast," "Mr. Holmes"), production designer Naomi Shohan ("Training Day," "American Beauty,"), costume designer Paco Delgado ("The Danish Girl," "Les Miserables") and visual effects supervisor Rich McBride ("The Revenant," "Gravity").