'Nocturnal Animals' Featurette: Tom Ford's Cruel And Dark Love Story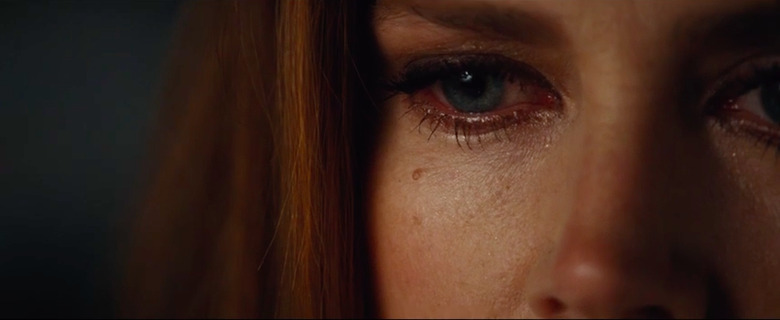 Tom Ford's Nocturnal Animals is a beautiful and nasty piece of work. Ford's adaptation of the late Austin Wright's Tony & Susan has elements of a thriller, but first and foremost, it's a love story. An often unsettling and tragic love story. Ford's latest actually shares a few similarities with A Single Man, but it's a much bigger and darker movie.
Below, watch the Nocturnal Animals featurette.
In Tom Ford's sophomore effort Amy Adams plays Susan Morrow, an art gallery owner disturbed by her ex-husband's (Jake Gyllenhaal) new story. Edward's novel is about a father (also Gyllenhaal, playing two roles) driving through West Texas with his wife (Isla Fisher) and daughter (Ellie Bamber). The family runs into trouble when they get ran off the road by Ray (Aaron Taylor-Johnson) and his nasty pack of friends.
Edward's story, titled Nocturnal Animals, takes an ugly turn from the start, and with each passing page, Susan finds herself more shaken, both by Edward's story and her regrets. The film co-stars Armie Hammer, Andrea Riseborough, Michael Sheen, and Michael Shannon, possibly at peak intensity with a fantastic performance as a fictional cop within Edward's story. You completely invest in Shannon's fake character and Edward's story, like Susan does.
In this new Nocturnal Animals featurette, Ford, Adams, and Gyllenhaal discuss the drama's story and larger themes:
For a movie with a story within a story, Nocturnal Animals is remarkably structured. Susan's story and Edward's story are of the same piece. They both inform each other. Knowing the man who wrote the story Susan is reading plays a key role in interpreting the crime story. Never do you feel like you want to get back to Susan or Edward's story, either; it's a consistently engaging two-hander. A Single Man is a very intimate story, and while the number of locations and characters have grown with Ford's second feature, he's directed a movie that's just as intimate and personal as his debut film.
Here's the official synopsis for Nocturnal Animals:
From writer/director Tom Ford comes a haunting romantic thriller of shocking intimacy and gripping tension that explores the thin lines between love and cruelty, and revenge and redemption. Academy Award nominees Amy Adams and Jake Gyllenhaal star as a divorced couple discovering dark truths about each other and themselves in NOCTURNAL ANIMALS.
Nocturnal Animals opens in limited release November 18th and goes nationwide on December 9th.