'Fantastic Beasts' Star Ezra Miller Serves Up A 60-Second 'Harry Potter' History Lesson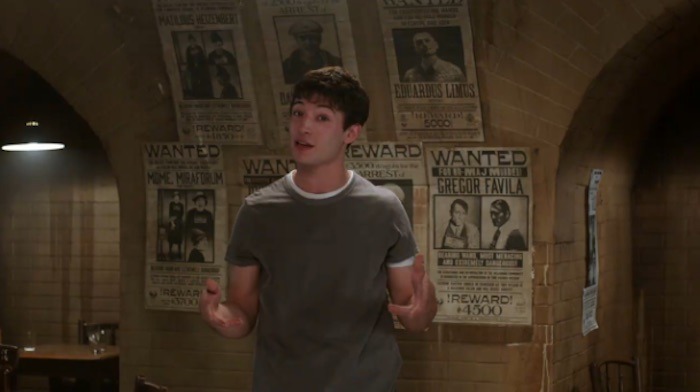 In just over two weeks, we'll see the Harry Potter franchise reignited with Fantastic Beasts and Where to Find Them. That's good news for Warner Bros., because the studio and author/screenwriter J.K. Rowling have big plans for Newt Scamander (Eddie Redmayne), like four more Fantastic Beasts films. Before we see more of J.K. Rowling's world of wizardry, though, let's take a quick look back at the Potter series with Ezra Miller, the co-star of director David Yates' latest film.
Below, watch Ezra Miller's Harry Potter history lesson.
In Fantastic Beasts and Where to Find Them, Miller plays Credence Barebone, a shy young man following the orders of Percival Graves (Colin Farrell), a powerful Auror and the Director of Magical Security. Credence is also the adopted son of Mary Lou (Samantha Morton), who's the leader of an anti-wizarding organization that wants to bring on another Salem Witch Trials.
During EW's PopFest this past weekend, Ezra Miller, who's billed as the biggest Potter geek of the cast, gave a Harry Potter history lesson, providing a hint of what might be in store for fans in Fantastic Beasts (source: Entertainment Weekly):
The dark and powerful wizard Miller is talking about, if you're not a Potter know-it-all, is Gellert Grindelwald, who was once friends with a teenage Albus Dumbledore. The two once even planned a revolution together. Unfortunately, they had a falling out, which led to a famous, epic battle. This battle led to Dumbledore possessing the Elder Wand, possibly the most powerful wand ever to exist. How big a role the wand, Grindelwald, or Dumbledore will play a role in Fantastic Beasts and Where to Find Them, we'll know soon enough.
Here's the official synopsis:
"Fantastic Beasts and Where to Find Them" is an all-new adventure returning us to the wizarding world created by J.K. Rowling. Academy Award winner Eddie Redmayne stars in the central role of wizarding world magizoologist Newt Scamander, under the direction of David Yates, who helmed the last four "Harry Potter" blockbusters. The film opens in 1926 as Newt Scamander has just completed a global excursion to find and document an extraordinary array of magical creatures. Arriving in New York for a brief stopover, he might have come and gone without incident...were it not for a No-Maj (American for Muggle) named Jacob, a misplaced magical case, and the escape of some of Newt's fantastic beasts, which could spell trouble for both the wizarding and No-Maj worlds.
Fantastic Beasts and Where to Find Them opens in theaters November 18th.