Universal Studios Unveils New 'Race Through New York Starring Jimmy Fallon' Details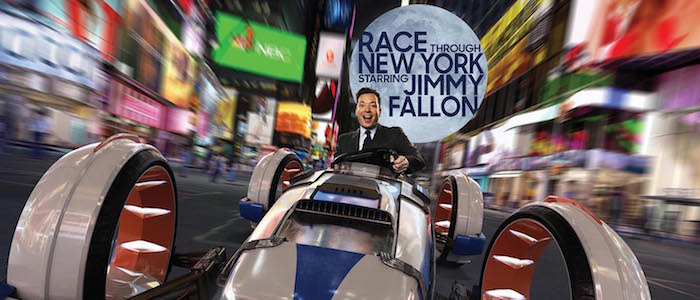 Universal Studios' greatest gift may also be its greatest curse. While Disney theme parks move at a notoriously slow pace, Universal creative is constantly on the ball, updating their parks and adding new attractions and viewing almost nothing as a sacred cow. The result: parks that are constantly evolving, pushing the envelope, and giving visitors something new to experience, like the warmly received Skull Island: Reign of Kong. It also means attractions like the upcoming Race Through New York Starring Jimmy Fallon, a ride concept that feels like the result of accountants and market testing more than anything else.
And yet, here I am, eagerly looking at the new details Universal has released about their new Jimmy Fallon ride. Because even when the subject matter isn't my cup of tea, a new Universal Studios ride always has my attention.
The details arrived online via the Universal Orlando blog, which debuted concept art, some behind-the-scenes footage of the making of the ride, and even a proper description of the ride itself.
Race Through New York Starring Jimmy Fallon replaces the ambitious, odd, and (if we're being completely honest) not especially great Twister: Ride It Out, which simulated its final tornado one year ago tomorrow. The attraction's exterior has been completely redesigned to reflect the new ride inside and once guests enter this recreation of the famed Studio 6B, they can "enjoy a live performance from the Ragtime Gals barbershop quartet, or check out some of the show's classic bits, from History of Rap to Lip Sync Battle" and enjoy various other activities. If you like Jimmy Fallon's stint on The Tonight Show, this could be fun! The rest of us will just admire from a distance.
The real meat here is the description of the actual ride, which will see everyone boarding "the world's first-ever flying theater." It's not clear exactly what this means, but the buzz has always suggested that this attraction will utilize similar technology as the ever-popular Soarin' at Disney's California Adventure and Epcot, which raises riders into the air in front of a massive screen to simulate a thrilling hang gliding experience. Here are the necessary bits:
After a briefing in the Studio 6B Lobby, you'll board the world's first-ever flying theater, which seats up to 72 audience members, for a rousing race alongside Jimmy Fallon through the greatest city in the world, New York.
From 30 Rock out into the streets (and the skies!) of The Big Apple, you and your fellow studio audience members will zoom past iconic New York City landmarks in an action-packed race with plenty of twists and turns along the way.
Be sure to keep an eye out for cameos from familiar characters like Sara from "Ew," Jimmy in "Tight Pants," and "Tonight Show" announcer Steve Higgins. All the sweet sounds of New York will come to life with the help of the Grammy award-winning band, The Roots, the musical masterminds behind the original attraction score.
Universal also released this making-of featurette, which features Fallon in a variety of outfits, including one of those skin-tight motion capture suits. If one thing is clear from this video, Race Through New York will find Fallon playing a digital version of himself as well as numerous other characters. Oh, joy?
I remain of two minds on this one. On one hand, I have no interest in The Tonight Show and no interest in a ride where my host is Jimmy Fallon. On the other, I'm far too interested in theme park design and tech to ignore this completely. Of course I'm going to follow this thing and of course I'm going to end up riding it some day. I sincerely hope it can win me over.
Race Through New York Starring Jimmy Fallon is expected to open its doors in the Spring of 2017.