'Stranger Things' Season 2 Will Bring Back Millie Bobby Brown As Eleven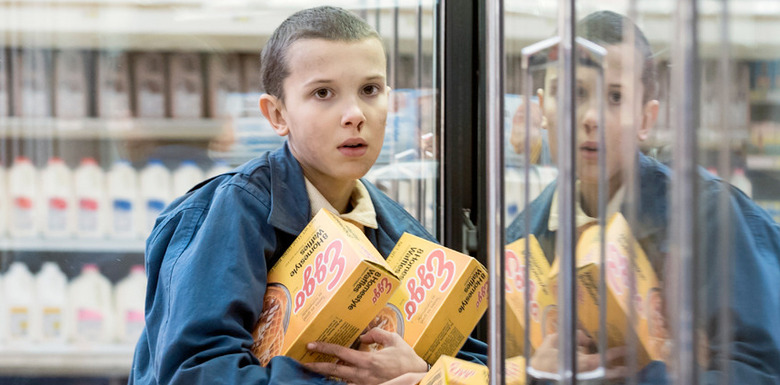 Following the end of the first season of Stranger Things, fans were left wondering if one of their favorite characters would be returning for the second season. But they don't have to worry anymore.
Young actress Millie Bobby Brown, who played the Eggo-loving, telekinetic girl known as Eleven, will be returning for the second season of Stranger Things. Find out more after the jump, but beware of spoilers for the first season from here on out.
Word of Eleven returning for Stranger Things season 2 comes from TV Line, but the extent to which she will be back on the show is still unknown. One would think that she would be a series regular again just like Finn Wolfhard (Mike), Gaten Matarazzo (Dustin), Caleb McLaughlin (Lucas) and Noah Schnapp (Will), but her fate at the end of the first season makes that unclear.
In the final episode of Stranger Things' freshman season, Eleven came face to face with the Demogorgon. And while she was able to use her powers to completely disintegrate it into oblivion (or maybe back into The Upside Down), she also disintegrated away herself. But when you're a girl with special powers, anything is possible, and it appeared Hooper (David Harbour) knew she was out there somewhere since he left a box of her favorite Eggo waffles in the woods for her to find.
All we know for sure right now is that Stranger Things season two will pick up about one year later in the fall of 1984, diving deeper into the bigger mythology behind the disappearance of Will Byers. And since we know that young Will is still having flashbacks to the Upside Down, there's clearly much more to be explored. A recent faux news broadcast also teased some resolution regarding the disappearance of Barb, a character fans came to love despite most of Hawkins, Indiana forgetting about her by the end of the first season. Clearly series creators Matt & Ross Duffer have a lot of paths they can follow for the new season.
However, there will be some new characters to take up screentime as well. We got word of three of them back in September (and who's playing them more recently), and you can read more about those characters right here. In addition, we also know the episode titles for the second season, and we've done our best guesswork to figure out what they might mean. There will likely be plenty of secrecy surrounding Stranger Things season two, but we're bound to find out more soon.
The second season of Stranger Things is expected sometime in the summer of 2017.