Sylvester Stallone Is Returning For 'Escape Plan 2'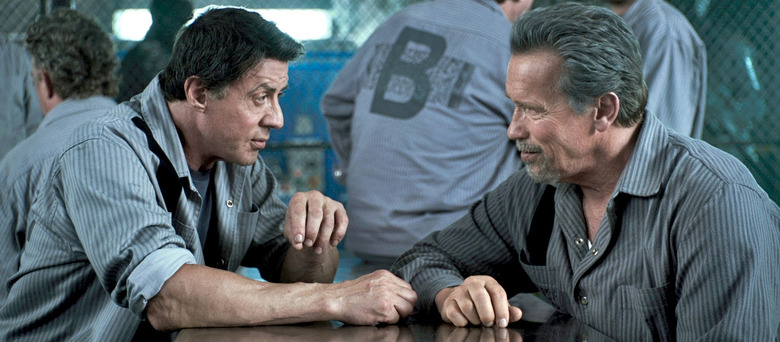 The prospect of Arnold Schwarzenegger and Sylvester Stallone teaming up would have been something truly exciting in the 1990s. Sadly, the film that brought them together, Escape Plan, didn't hit theaters until 2013. And while it was a modest success that pulled in $137 million worldwide, it certainly didn't live up to what fans hoped to see from seeing these guys leading a movie together. But that's not stopping Emmett/Furla/Oasis Films and Lionsgate Premiere from putting together a sequel.
Straight out the American Film Market, we have word that Escape Plan 2 is in the works with Sylvester Stallone slated to return (unlike the Rambo reboot that was just announced). But what about Arnold Schwarzenegger? Find out more after the jump.
Deadline has word on the sequel which will bring back producers Mark Canton and Zack Schiller, as well as writer Miles Chapman. However, one change behind the scenes will see the film financed by an unnamed Chinese company, mostly because the film performed so well in the region.
If you never saw Escape Plan, here's the official synopsis of the first movie:
Tough and chiseled Ray Breslin (Sylvester Stallone) knows how to infiltrate a prison — and bust out of one. His latest job leads to a double-cross, leaving him stuck in a high-tech facility with the worst that society has to offer. Luckily for Ray, he meets Emil Rottmayer (Arnold Schwarzenegger), a

n inmate who secretly helps him hatch a plot to win his freedom. Only sadistic warden Hobbes (Jim Caviezel) stands in the way of the two men successfully making it out alive.
So what kind of direction could the sequel take? We're not sure, but it's safe to assume that it will involve Sylvester Stallone being trapped somewhere again. Whether or not he ends up trapped in a prison again remains to be seen, and the return of Arnold Schwarzenegger is up in the air too. What could be interesting though is if instead of pairing Stallone with Schwarzenegger again, they teamed him up with Jackie Chan.
Sylvester Stallone wanted to bring Jackie Chan in on the Expendables franchise at one point, but the schedule couldn't be worked out. Since Chan is still a huge box office star in China (the abysmal-looking Skiptrace was a huge hit there), and a company there is financing the film, this could be a great opportunity to bring these two stars together.
Here's hoping Escape Plan comes through where the first film fell short. It felt the kind of movie that took itself a little too seriously when it really should have fed into the throwback nature of the movie in the same way that The Expendables franchise did. There were some cheesy lines and moments, but it just didn't feel like enough.
Anyway, Escape Plan 2 will start shooting in March in Ohio and China, but no release date has been pegged yet.