'Fuller House' Season 2 Is A Thing That Exists, Here's A Trailer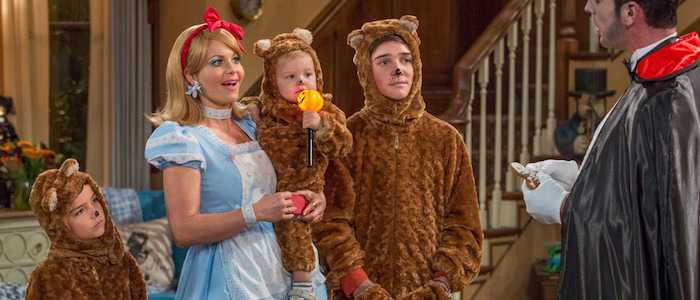 I like a lot of stupid things. I like so many stupid things that I have a hard time casting judgment on people who enjoy things that I think look stupid. I live in a glass house perched upon a precipice overlooking a rocky ravine when it comes to enjoying movies and shows that are downright idiotic. There are no stones here and I shall not cast them.
With that out of the way, the Fuller House season 2 trailer has arrived. I'm sure this will delight some of you to no end.
As you may know, Fuller House is Netflix's sequel series to Full House, which ran for eight seasons during a time when our standards for television were slightly lower. Some people have a nostalgic attachment to it and apparently enough of them have Netflix subscriptions to justify a second season. So here we are. The first season followed the recently widowed D.J. Tanner-Fuller as she struggled to raise her three boys with a helping hand from her family and friends. Cue studio audience: awww.
The arrival of this trailer was first announced yesterday with a Halloween-themed teaser that is built entirely around a certain character saying a certain catchphrase. You probably know which one if you were a sentient person during the '90s.
And since the full trailer arrives today, the day after Halloween, there's a Christmas theme at work here. After all, it becomes okay to start laying on the bells and holiday cheer at 12:01 A.M. on November 1, 2016. I'm pretty sure there's a U.N. charter written about this or something. Anyway, here's the trailer. It's full of jokes that you may or may not find amusing depending on your personals tastes and what-not.
Because I honestly don't have much to add here beyond "Hey, Fuller House fans: you do you!", I'll just note that the series stars Candace Cameron Bure as D.J. Tanner-Fuller, Jodie Sweetin as Stephanie Tanner, Andrea Barber as Kimmy Gibbler, Juan Pablo Di Pace as Fernando, Soni Nicole Bringas as Romona, Michael Campion as Jackson, Elias Harger as Max, Dashiell and Fox Messitt Twins as Baby Tommy, Scott Weinger as Steve Hale, John Brotherton as Matt Harmon, and Ashley Liao as Lola. I hope this information was helpful and informative.
Fuller House season 2 arrives on Netflix on December 9, 2016. No one will now if you watch it. The stupid things you enjoy in the privacy of your own home are your business. Have fun!