The First Wave Of 'Westworld' Music Is Now Available For Purchase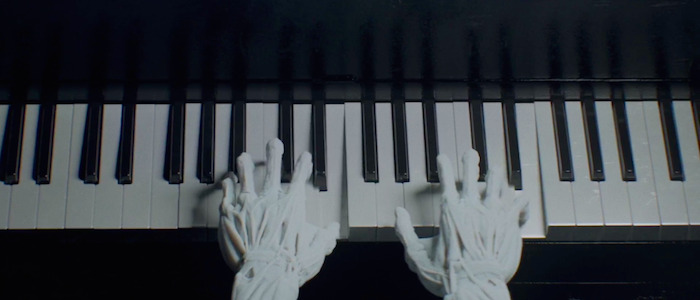 Westworld is the kind of show that offers so many pleasures that I find myself writing thousands of words about it every Monday morning. And now, I have finally the perfect musical accompaniment for when I try to unpack this series' mysteries and philosophical questions. The first selection of music from the show's soundtrack has arrived on iTunes and now you can own the show's theme music and, more importantly, those old-timey covers of modern pop and rock songs.
If you want to add these tracks to your musical library, you just need to head over to iTunes and make the appropriate purchases. Each track will cost you $1.29, or you can just drop $4.99 to get all five tracks in a slightly cheaper package. Available right now are Ramin Djawadi's eerie main theme and instrumental covers of The Rolling Stones' "Paint It Black," The Cure's "A Forest," Soundgarden's "Black Hole Sun," and Radiohead's "No Surprises."
Like many aspects of Westworld, it's not clear if these songs are intended to have a deeper meaning within the show or if they're just fun Easter eggs. After all, we're dealing with a futuristic theme park packed full of tiny anachronisms and details, so why would the designers not fill those player pianos with pop hits from the distant past? Every theme park needs its Easter eggs. Still, it's hard to look at the lyrics to "No Surprises" and not see some relevance for the robotic Hosts, who are endlessly used and abused by paying customers:
A heart that's full up like a landfill
A job that slowly kills you
Bruises that won't heal
You look so tired and unhappy
Bring down the government
They don't, they don't speak for us
I'll take a quiet life
A handshake of carbon monoxide
The lyrics for "A Forest" also feel like a sly companion to Dolores, the Host whose evolving subconscious (and the voice of a long dead man) has sent her off her loop in pursuit of a mysterious "Maze":
I hear her voice
Calling my name
The sound is deep
In the dark
I hear her voice
And start to run
Into the trees
Into the trees
And while this current batch of songs doesn't include it yet, the most recent episode of the series did feature a gaudy and grotesque orgy sequence set to a string cover of...wait for it...Nine Inch Nails' "Something I Can Never Have."
That last one is a little on the nose, but it feels like an appropriately sharp nudge. Yeah, there's no way these songs choices are accidental or coincidental. The next episode will arrive on Sunday.