'Wonder Woman' Trailer: DC's Amazonian Warrior Princess Takes The Spotlight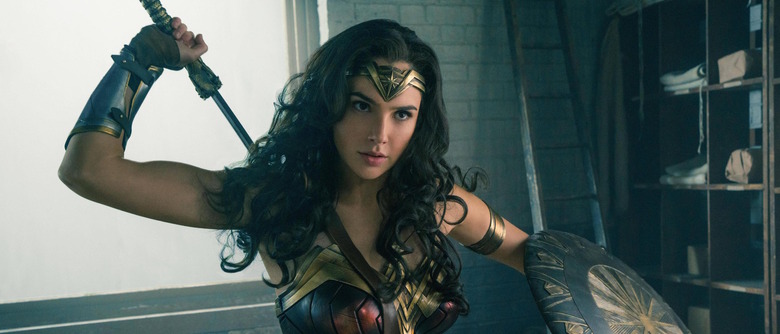 Considering how many different cinematic iterations we've seen of Batman and Superman over the years — not to mention how many different superhero movies we've seen lately, period — it's kind of mind-boggling that it's taken this long for Wonder Woman to get her own movie. It's not for lack of trying, exactly, but for whatever reason, every attempt to bring her to the big screen has fallen apart. Until now.
Gal Gadot made her debut as the Amazonian warrior in this spring's Batman v Superman: Dawn of Justice, and damn near stole the show right out from under the two guys whose names are actually in the title. Next year she'll get the spotlight all to herself in Wonder Woman, directed by Patty Jenkins. Warner Bros. wowed Hall H with a special Comic-Con trailer this summer, and now they're hoping to get the buzz going again with the first proper Wonder Woman trailer. Watch it below.
Wonder Woman Trailer
In addition to Gal Gadot as the leading superheroine, Wonder Woman features Chris Pine as Wonder Woman's love inerest Steve Trevor, Connie Nielsen as Wonder Woman's mother Queen Hippolyta, and Robin Wright as Wonder Woman's aunt General Antiope. Lucy Davis, Lisa Loven Kongsli, Danny Huston, Ewen Bremner, Elena Anaya, Florence Kasumba, and Saïd Taghmaoui also star.
Though it's coming out after Batman v Superman, Wonder Woman goes back in time to explain how Wonder Woman, a.k.a. Diana Prince, came to get mixed up in World War I. And though the dark, muted colors suggest this is very much of a piece with Warner Bros.' other DC universe films, filmmakers have emphasized that Wonder Woman will have "a sense of lightness or humor" to it, in keeping with Wonder Woman's personality as a more "hopeful, optimistic" leader.
In fact, Jenkins revealed, she took some cues from another famous DC superhero: Superman, as seen in Richard Donner's 1978 film starring Christopher Reeve. "Superman was all about you," she said. "It was about you watching and realizing what it would feel like to have great powers and do great things. It was full of love and emotion."
Wonder Woman opens June 2, 2017.