'The Crown' Trailer: Peter Morgan And Stephen Daldry Reunite For Queen Elizabeth II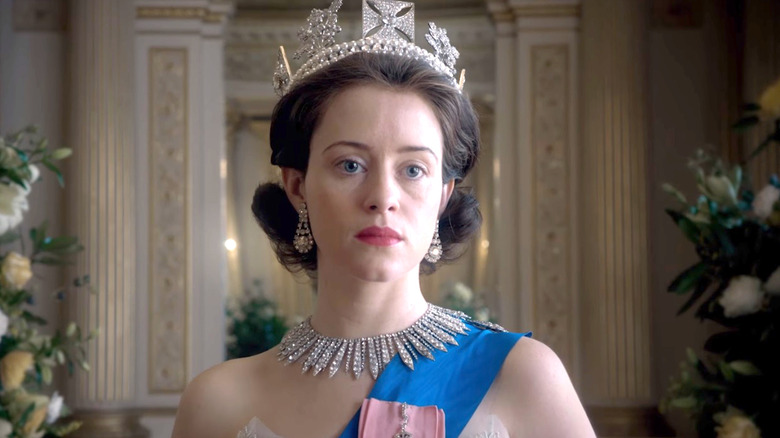 Once again, Academy Award-nominated screenwriter Peter Morgan adapts his stage work. Morgan, who previously adapted his play Frost/Nixon, is bringing The Audience to Netflix with director Stephen Daldry (Extremely Loud and Incredibly Close). The story of Queen Elizabeth II's (Claire Foy) rise is now called The Crown, and season one of the English period drama debuts this Friday on Netflix.
Below, watch The Crown trailer.
The first ten episodes of The Crown, which reportedly cost $100 million, portrays the beginning of Queen Elizabeth II's reign. The Peter Morgan-created series will show the 25-year-old inheriting the throne, marrying Prince Phillip (Matt Smith), navigating her relationship with Sir Winston Churchill (Jon Lithgow), dealing with family scandals and political rivalries, and more. The Crown also stars Victoria Hamilton as the Queen Mother, Vanessa Kirby as Princess Margaret, Dame Eileen Atkins as Queen Mary, and the great Jared Harris as King George VI.
Here's the new trailer for The Crown:
Mogan's Tony-award winning play starred Helen Mirren as Queen Elizabeth II. The Audience depicted the Queen's interactions and meetings with every prime minister from her accession in 1952 until the play debuted. A few years earlier, of course, Mirren played Queen Elizabeth II in The Queen, which Morgan also wrote.
The writer reunites with the play's director, Stephen Daldry, and producer, Andy Harries, for The Crown. Mogan thought of the idea while writing The Audience, thinking it'd be great to show a young Queen Elizabeth II's relationship with an older Winston Churchill. The plan is for each season to depict a decade in Queen Elizabeth II's life. Netflix has already ordered two seasons (20 episodes) of The Crown, which looks to feature some fine production value and a performance from Lithgow as Churchill we might not want to miss.
Here's the official synopsis for The Crown:
A Netflix original series, The Crown focuses on Queen Elizabeth II as a 25-year-old newlywed faced with the daunting prospect of leading the world's most famous monarchy while forging a relationship with legendary Prime Minister, Sir Winston Churchill. The British Empire is in decline, the political world is in disarray, and a young woman takes the throne....a new era is dawning. Peter Morgan's masterfully researched scripts reveal the Queen's private journey behind the public facade with daring frankness. Prepare to be welcomed into the coveted world of power and privilege and behind locked doors in Westminster and Buckingham Palace....the leaders of an empire await.
The Crown is available on Netflix starting November 4th.