'The Eyes Of My Mother' Trailer: Another Little Girl That Will Totally Creep You Out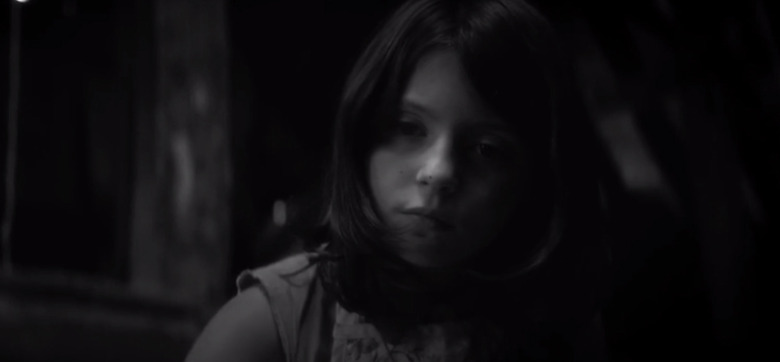 Since it's Halloween, it's the perfect time for a new trailer to promote the creepy indie horror flick The Eyes of My Mother. The film debuted at the Sundance Film Festival earlier this year, and reviews are pegging it as a truly chilling nightmare. The first trailer was certainly ominous and foreboding, and now a new trailer has come along that's even more creepy.
In the new The Eyes of My Mother trailer, we basically get a single scene that introduces us to Francisca, one of those children who you just know is going to haunt you when you go to sleep. It appears she has certain proclivities to making friends in the creepiest way possible. Closing your eyes during this movie will be just as much about being scared as it will be protection from Francisca.
Our own Jacob Hall loved The Eyes of My Mother at Fantastic Fest, writing in his review:
Writer/director Nick Pesce has delivered one of the most startling debuts in quite some time, the kind of smart, mean, and truly unique horror movies that those who claim the genre is dead obviously haven't seen.
However, Angie Han on the other hand wasn't quite as thrilled with the film:
The Eyes of My Mother was not one of my favorites at Sundance. The entire experience is viscerally uncomfortable and spiritually ugly (though visually beautiful, thanks to the striking black-and-white cinematography by Zach Kuperstein), and I came close to walking out several times.
It sounds like you might have to see this one for yourself. The Eyes of My Mother doesn't feel like the kind of horror movie general audiences normally flock to, but it does feel like one that deserves to be given a shot. Movies like this, The Witch and It Follows deserve much more exposure instead of the same old studio horror movies we get year in and year out. Thankfully, it's also been a good year for studio horror with Lights Out, Don't Breathe, The Conjuring 2 and more, so it's just a good time to be a horror fan.
In their secluded farmhouse, a mother, formerly a surgeon in Portugal, teaches her daughter, Francisca, to understand anatomy and be unfazed by death. One afternoon, a mysterious visitor horrifyingly shatters the idyll of Francisca's family life, deeply traumatizing the young girl, but also awakening some unique curiosities. Though she clings to her increasingly reticent father, Francisca's loneliness and scarred nature converge years later when her longing to connect with the world around her takes on a distinctly dark form.
The Eyes of My Mother is in theaters and on VOD starting December 2.