Cool Stuff: Tom Whalen & Dave Perillo's Super Science Fair Artwork For Captain America, E.T. & More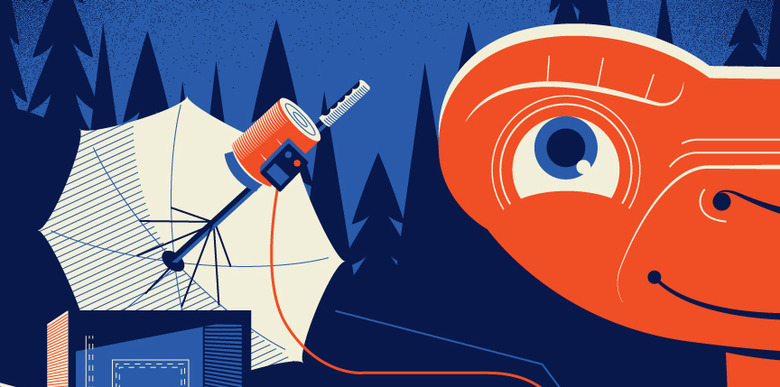 Both Tom Whalen and Dave Perillo had some of their new artwork unleashed at NYCC, and they both sold out extremely fast after going on sale to the rest of the public earlier this week. But this coming weekend, fans of both artists will have another chance to get their hands on new pop culture art.
Spoke Art has a new exhibition called Super Science Fair – A Pop Culture Experiment by Tom Whalen and Dave Perillo. Taking inspiration from vintage science fairs and science fiction, the new artwork is a little different than the usual pop culture art fare we're used to seeing. You can check out some of the images from the Tom Whalen and Dave Perillo Super Science Fair, including an exclusive Dave Perillo piece paying tribute to Captain America.
First up, here's the exclusive Dave Perillo piece "Super Soldier" sent to us: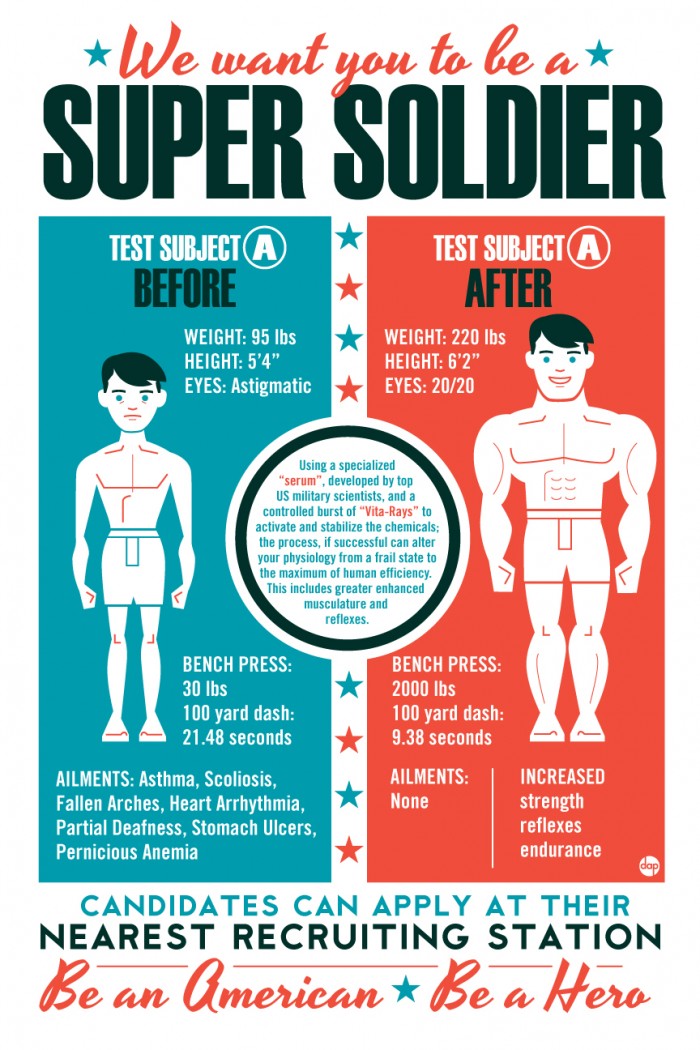 The above piece measures 12x18 and has an edition of 50. Here's some of the other featured pieces:
Here's how the new show is described by Spoke Art:
Both Tom Whalen and Dave Perillo are heavily influenced by their backgrounds in design and typography as well as a mutual love for all things sci-fi and super hero related. Each artists' work explores the science behind their favorite films and characters from Aliens to Xenomorphs with concise and dynamic compositions.
One part mid-century advertisements, a hand full of cult classics and spiced with pop culture inspirations, Whalen and Perillo have brewed up their version of a science fair. New infographic pieces detailing planets from galaxies far, far, away, Pee Wee's Breakfast Machine, and a spec sheet for the U.S.S. Sulaco will guide you on this science experiment.
Dave Perillo cites Mary Blair, Walt Disney, Jim Henson and Charles Schultz among his key influences. For Super Science Perillo has created a series of public service announcements, informational pamphlets and guides. Intergalactic communications, how to grow a dinosaur, and time travel through the ages each seamlessly blends sci-fi heroes with a nod to advertising of the 50's and 60's.
Spoke Art's new exhibition in San Francisco opens on Thursday, November 3 at 6pm and will stay open through November 26. Check out the gallery at 816 Sutter St. San Francisco CA 94109. If you're interested in buying some of these pieces, they should be available at Spoke Art's shop online after the gallery opens this weekend.