'David Blaine: Beyond Magic' Trailer Featuring Emma Stone, Margot Robbie And More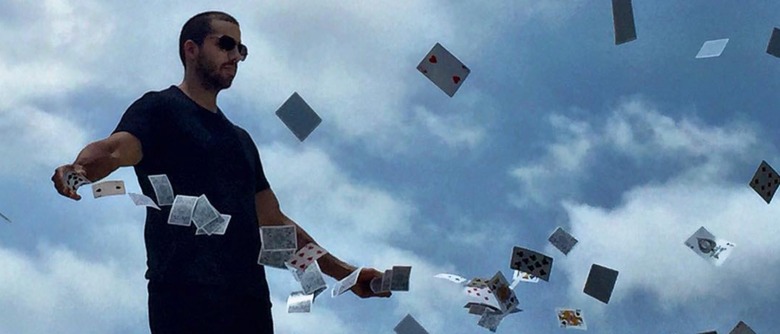 David Blaine is a magician best known for making magic cool again in the late 1990's with his street magic specials. His detour into crazy stunts that seemingly tested his body's limits was not quite as interesting as his personal slight of hand wizardry, and in recent years he has television appearances have become rarer. He returned in 2013 with the ABC special David Blaine: Real or Magic, which featured Blaine performing his trademark magic for celebrities and public figures.
He returns with a new special next month entitled David Blaine: Beyond Magic, which takes the same approach, featuring the likes of Emma Stone, Johnny Depp, John Travolta, Margot Robbie, Arnold Schwarzenegger, Patrick Stewart, and more. The first David Blaine: Beyond Magic trailer has been released, watch it now after the jump.
David Blaine: Beyond Magic Trailer
The new television special appears to be the exact same formula as his last special, with David performing magic and stunts for famous celebrities around the world. David Blaine: Real or Magic was a great special, and David introduced some fun new illusions to his repertoire, making many ask the question of how far would a magician go to pull off a "trick." Would they actually go through surgeries to perform the impossible? But there was a lot a lot of rehashed tricks, Blain performing some of his classics. As always, it's all about the reaction, and it's more interesting when the response is coming from someone we know and relate to.
I'm just hoping this tv special doesn't tread too much of the same ground in terms of material from Blaine's previous magic specials. We see clips in this teaser of David doing things he's done before, for instance: the bullet catch.
It's no secret that I'm a magic fanatic. I've always loved the art of magic since my father showed me my first David Copperfield special as a kid. I used to dream about going to the Magic Castle, and now I live down the street from this Hollywood institution and am lucky to visit it a couple of times a year.
While this is a film and television site, I've tried to write about magic when the opportunity presents itself. Sometimes that takes the form of a top 15 list of the best magic movies of all time, a tour of David Copperfield's secret warehouse and magic museum (another life-long dream fulfilled), or a review of a magic show directed by Frank Oz. So when I saw this trailer, I knew I had to share it on the site.
I know Blaine is often mocked in popular culture, but I do believe he brought magic back to the mainstream by ditching the corny stage illusions and presenting smaller more grounded miracles in more relatable urban settings, letting the reactions tell do much of the work. It's easy to write off what he has done as a one-note gimmick, but he changed an entire artform with his early street magic specials and continues to push the boundaries.
David Blaine: Beyond Magic will premiere on November 15th, 2016 at 10:00 p.m. on ABC. Header photo via David Blaine's Instagram.