First 'Fantastic Beasts' Clip Serves Up A Magical Treat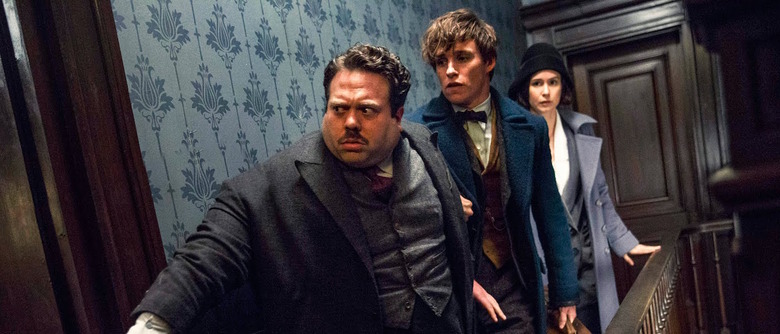 As we've already seen in the Harry Potter movies, the wizarding world has plenty of delicious food we don't have in the Muggle world, like butterbeer. But even a more run-of-the-mill treats seem more special when they're lovingly crafted via magic, as No-Maj Jacob (Dan Fogler) discovers in a just-released scene from Fantastic Beasts and Where to Find Them. Watch the first Fantastic Beasts clip below.
Fantastic Beasts Clip
You've casted the correct spell! Enjoy this exclusive clip from #FantasticBeasts: pic.twitter.com/YU9OoYakoo

— Fantastic Beasts (@FantasticBeasts) October 28, 2016
The new clip shows Queenie (Alison Sudol) playing hostess to Newt (Eddie Redmayne) and Jacob. Newt and Porpetina (Alison Sudol) seem unfazed. But Jacob is utterly amazed, as any of us would be in his shoes. He represents the Harry Potter franchise's first major Muggle character, though in America we apparently refer to people without powers as "No-Maj." While past Harry Potter stories have featured characters like Hermione and Harry who were raised in the Muggle world before entering the magical one, as well as characters like Filch who were born into the wizarding world but have no magical powers, Jacob will be the first true outsider in the franchise.
Fantastic Beasts and Where to Find Them opens November 18.
Fantastic Beasts and Where to Find Them is an all-new adventure returning us to the wizarding world created by J.K. Rowling. Oscar winner Eddie Redmayne (The Theory of Everything) stars in the central role of wizarding world Magizoologist Newt Scamander, under the direction of David Yates.
Fantastic Beasts and Where to Find Them opens in 1926 as Newt Scamander has just completed a global excursion to find and document an extraordinary array of magical creatures. Arriving in New York for a brief stopover, he might have come and gone without incident...were it not for a No-Maj (American for Muggle) named Jacob, a misplaced magical case, and the escape of some of Newt's fantastic beasts, which could spell trouble for both the wizarding and No-Maj worlds.