Rogue One Bits: Gareth Edwards Geeks Out With Ben Mendelsohn, New 'Star Wars' Fashions, And Tom Hanks Grills Felicity Jones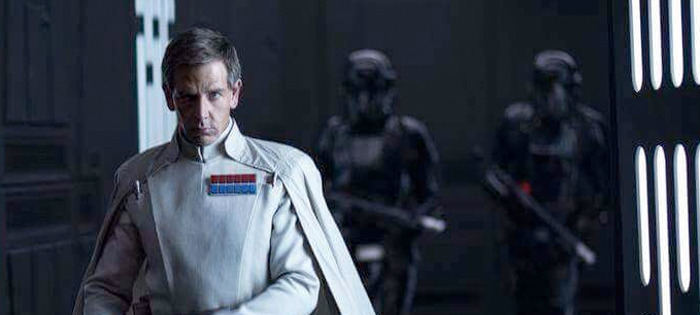 In this edition of Rogue One Bits:
Gareth Edwards talks about geeking out on set with Ben Mendelsohn.
Yes, there is now a commercial tying Rogue One: A Star Wars Story and the Nissan Rogue together.
Mads Mikkelsen on the guilt inherent in building a Death Star.
The first copies of Star Wars: Catalyst are coming off the presses.
A look at some new Rogue One-inspired fashions.
Even Tom Hanks can't get Star Wars details from Felicity Jones.
Rogue One will open one day early in the U.K.
A new contest will allow you to see Rogue One in IMAX with Gareth Edwards.
USA Today has a really fun article about Rogue One, focusing on director Gareth Edwards and Ben Mendelsohn, who plays the villainous Imperial official Orson Krennic. First, here's Edwards describing his reaction when he stumbled across life-size Death Trooper (the black-armored Stormtroopers seen in the trailers) in a mall:
I kind of looked at them like, 'Oh, cool, Death Troopers,' and then suddenly stopped and thought, 'Hang on a minute, this is my film. I'm never going to be in a position where it's such already part of popular culture.'
Edwards goes on to talk more about Krennic, the man in charge of getting the Death Star built, and how he doesn't quite fit in with the rest of the Empire's top brass. The article also features Edwards describing what it was like to film a scene where Krennic interacts with Darth Vader. Mendelsohn, appropriately, geeked out:
He went, 'It's Darth Vader. We filmed with Darth Vader.' And I was like, 'I know. It's amazing, isn't it?' It was like no one wanted to admit that they're having a little fanboy freak-out but everyone did. It's impossible not to. He's so iconic.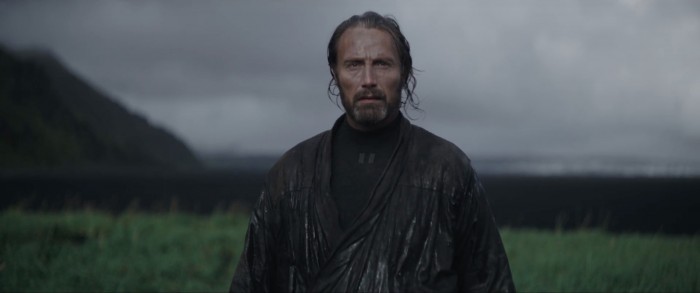 IGN spoke with Mads Mikkelsen about his role as Galen Erso in Rogue One. Specifically, they asked him about his character's guilt over helping design the Death Star, the worst weapon of mass destruction the galaxy has ever seen (up until that point):
He's not in a super nice position. So, I mean, leaving is a big word. I mean he didn't really have a choice. But, I think he's the most guilty man in the world and I think that's been very hard to cope with. But, if there was a way out of there, he would have taken it.
We know from the trailers that Galen is abducted by Orson Krennic and his Death Troopers and forced to work on the project, leaving young Jyn to fend for herself (and eventually join the Rebel Alliance). The past relationship between the Erso family and Krennic will be explored in the upcoming novel Star Wars: Catalyst.
Hot off the presses, #Catalyst: A #RogueOne Novel by James Luceno. Doubling our efforts to get you this book, Nov 15th! #StarWars pic.twitter.com/vg2UZiAWqg

— Star Wars Books (@DelReyStarWars) October 24, 2016
Speaking of Star Wars: Catalyst, the Twitter feed for Del Rey's Star Wars book division has revealed that the first copies of James Luceno's novel (which follows the Erso family and Orson Krennic during the Clone Wars) are starting to come in. The book won't actually hit shelves until November 15, 2016.
StarWars.com has posted an interview with Knut Bergel, the co-founder and CEO of Musterbrand, a clothing and accessory company dedicated to making unique twists on geek properties. Naturally, this particular conversation revolves around their newest creations: clothing inspired by Kylo Ren, Rey, and the Rebel soldiers of Rogue One. As you can see in the gallery above, these manage to be obviously inspired by Star Wars without being too obvious, making them the perfect purchase for the fans who want to be a little more subtle about what they love.
In the interview, Bergel spoke about the process of working in such a popular and regulated space:
We're sort of sent what assets are available about the mood of the character. Disney is a very, very professional licensor as far as providing brand guides and elements to use. But we don't simply copy logos or print approved assets on items. We design everything from scratch based on the apparel of the character, some of which are close and wearable replicas of what's on screen. So we're not just focusing on the graphical elements, but also the feel of the fabric, the choice of knit, [ensuring everything] meets the character or setting of the movie.
That leaves us with specific choices for each piece, like if you want your cotton pre-washed, or should it be more beat up, or should it be more clean... We submit that all to Disney, and they come back with whatever minor changes they need as the film's production progresses and changes are made. But for the most part, we've been quite lucky with the approval time. Often we'll have to start manufacturing or mailing everything down about six months in advance of the movie in order to make sure that we have the items available worldwide. So, the production on our new Rogue One jackets [started early].
Designing for these films gives us an opportunity to take what these fantastical characters are and twist it into something wearable, with a recognizable silhouette or pattern. So with the jackets, that was what we wanted to emulate and bring to life: that gritty Rebel feel with a clean cut for long wear.
You can read the whole interview at the link above.
You just know that the marketing people at Nissan started frothing at the mouth when they heard the title of the new Star Wars movie. I'll give them this much credit: there is a truly impressive amount of nifty imagery jam-packed into this 30-second car advertisement.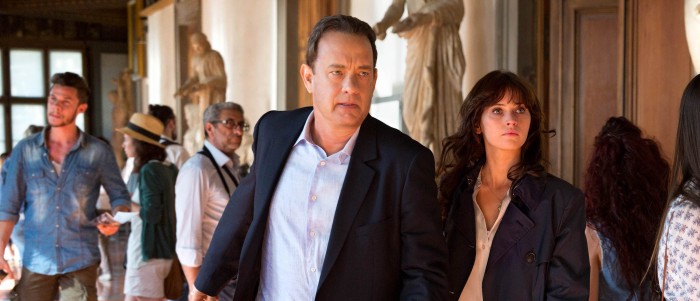 CinemaBlend interviewed Tom Hanks and Felicity Jones for Inferno, the third Robert Langdon movie. However, the subject eventually switched to another franchise altogether. When asked about potential sequels to Rogue One, Jones kept her lips sealed, leaving Hanks to joke about how everyone on the Inferno set would beg her for details on a daily basis, only to learn absolutely nothing. You can watch the video for yourself at the link above.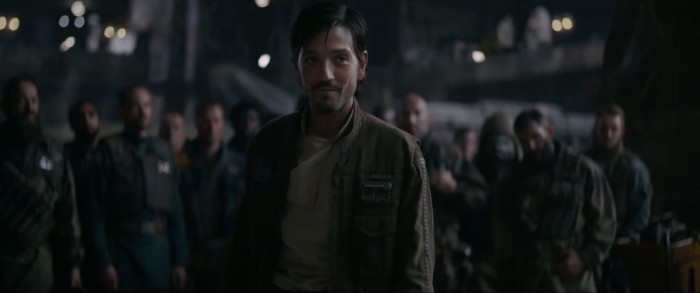 Rogue One star Diego Luna has a new interview in the Mexican edition of Vanity Fair and Star Wars News Net has provided a translation. The most interesting bits involve Luna describing the tone of the film and the characters, emphasizing that everything is a bit more realistic than past Star Wars films:
I wanted to make my character more natural and realistic. Although people expect the tone of the film to be fantasy, it actually is quite the contrary. It's an intimate story that feels real.
He also touched on how the film won't feature any Jedi or anyone with magical abilities, just ordinary people who must rise to the occasion:
I think of all the Star Wars films released so far, Rogue One is the most real one, which is about the people. The characters are very similar to us. They are heroes with no powers. What they have is a conviction and desire to change reality.
Stay on target! #RogueOne blasts into UK cinemas on December 15. All wings report in... pic.twitter.com/H0UYXRwNJ8

— Star Wars UK (@StarWarsUK) October 23, 2016
If you live in the United Kingdom, know that you'll be getting Rogue One a day earlier than the schmucks across the pond. The news was confirmed by the official Star Wars U.K. Twitter account, so make sure you clear your schedules on December 15.
The latest episode of The Star Wars Show has revealed the details of a new Rogue One contest that will award the winner with a trip to Los Angeles to watch the film in IMAX with director Gareth Edwards. It's a simple enough process: find the new standees that will be on display in select IMAX theaters, take a picture of yourself with the standees, and share the image on Twitter with the #RogueIMAXsweeps hashtag. You can enter once per day from November 3 through November 27.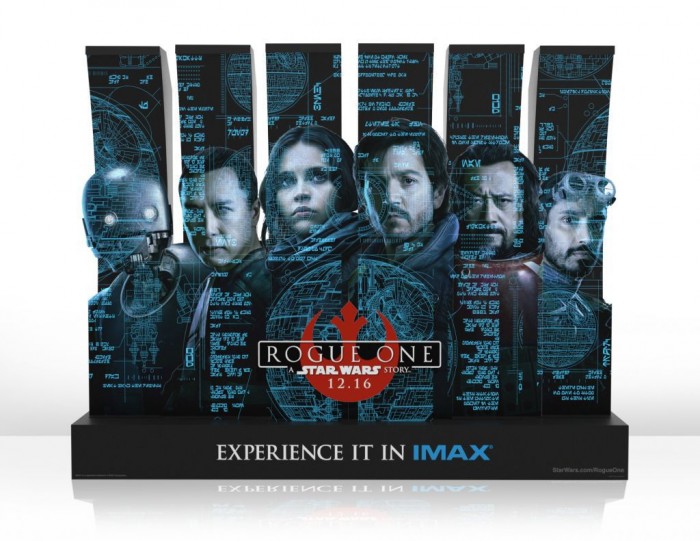 In case you need a reference photo for that the new IMAX standee looks like, here's a high-resolution image. It's pretty much a nifty combination of the most recent character posters, although it will apparently light up in person. A closer look will reveal fictional messages written in Aurebesh, the fictional language of the Star Wars universe. A few of them (via ComicBook.com) translate as "All power to the Empire," "There will be no one to stop us this time," and "Join the Empire."
Pfft who am I kidding. Behold! The poster you've all been waiting for: The new and improved final #RogueOne poster! #TheBrotherhoodOfBinks pic.twitter.com/15O7RQWXxJ

— Olly Gibbs (@OllyGibbs) October 24, 2016
I don't know about you guys, but I'm not about those Rogue One reshoots. It looks like a completely different movie now...