Alamo Drafthouse Brooklyn Inspires A Quartet Of Comedic Texting & Talking PSAs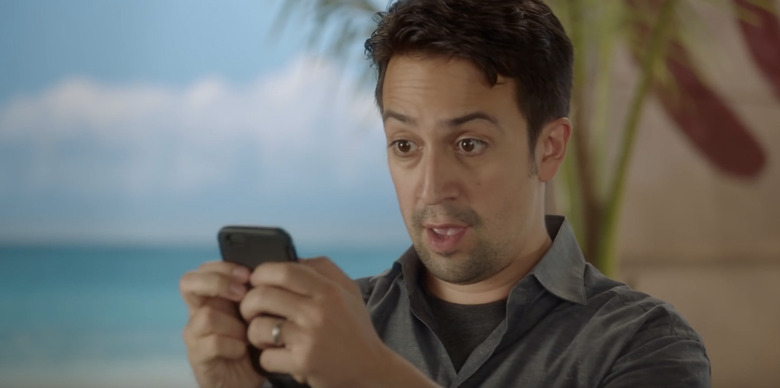 Congratulations, Brooklyn, you now have your very own Alamo Drafthouse. The official website for the new location has listings for all the events are coming to your neck of the woods for the grand opening of the theater, but that's not all. In honor of the new location, a quartet of Alamo's famous talking and texting PSAs has been revealed featuring Mike Birbiglia and the cast of his outstanding movie Don't Think Twice, comedian and Wet Hot American Summer star Janeane Garofalo, as wel as Dwayne Johnson with his Moana composer and Hamilton creator Lin-Manuel Miranda.
Watch the new Alamo Drafthouse PSAs after the jump.
Janeane Garofalo banishes texting and talking while talking about genocide and toilet babies:
High Maintenance creators Ben Sinclair and Katja Blichfield won't even sell weed during a movie in this PSA:
The comedian cast of Don't Think Twice recollects the worst interruptions of their performances:
And finally, Dwayne Johnson and Lin-Manuel Miranda try to trick you into texting as a test:
If you've ever been to an Alamo Drafthouse then you know that they're not kidding when it comes to these strict rules about texting and talking during movies. You get one warning, and if you're caught again, then you are kicked out without a refund. Deal with it.
If that sounds a little too strict for some of the unique families out there with kids that have special needs, the good news is that Alamo Drafthouse locations just recently just kicked off their new Alamo for All screening initiative. Here's the gist of those screenings:
"The new "Alamo for All" are sensory friendly screenings open to all ages, including infants. Like its "Baby Day" predecessor, at these specially designated screenings the house lights are left a little brighter and the sound is turned down a little lower. The feature film will run without the Alamo Drafthouse's signature preshow and without trailers. Moving around the theater and noise will be allowed. Alamo Drafthouse's normally strict rule against latecomers will also be relaxed at these screenings. The use of cell phones or other devices, however, will still be discouraged.
And, working parents rejoice: "Alamo for All" screenings will be found not just on weekdays, but on weekend mornings as well."
That's pretty damn awesome. You can find out more about these special screenings and get tickets to some of these shows right here. Enjoy your movies!