VOTD: The Quentin Tarantino Universe Comes To Life In A Stylish Video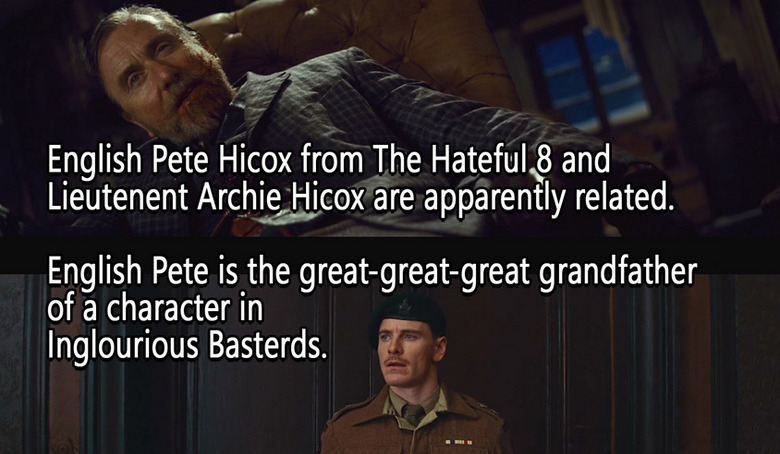 If you're a Quentin Tarantino fan, then you know that there are tiny connections that link all of his movies together so that they all exist in the same universe. Tarantino actually clarified how these connections work earlier this year after The Hateful Eight was in wide release:
"There are actually two separate universes. There's the realer than real universe, and all the characters inhabit that one. Then there's this "movie" universe, so From Dusk Till Dawn and Kill Bill take place in this special movie universe. Basically, when the characters from Reservoir Dogs or Pulp Fiction go to the movies, Kill Bill and From Dusk Till Dawn is what they go see."
Now a stylish new video illustrates perfectly and entertainingly how all these movies are connected by jumping back and forth between them. There are even some of the more subtle references that you may have never picked up on, including some stuff from one of Tarantino's "lost" movies.
Watch the Quentin Tarantino universe video after the jump!
If you found yourself a little confused at how some of these chunks of Tarantino's movies fit together (some of the clips are used just to help guide the video along in a fun way), there are explanations of some of the less obvious connections over here (thanks to Beyond the Frame). There were some that I actually wasn't even aware of until I read through these explanations, so if you're not a hardcore Tarantino fan, you might just learn something.
Oh, and if you're in the mood to go down a long Quentin Tarantino path today, be sure to check out our own Jacob Hall's ranking of every single character from his movies. It's broken down into Part One, Part Two and Part Three, so enjoy!