Robert Downey Jr.'s 'Sherlock Holmes 3' Picks Up 'Rogue One', 'Guardians Of The Galaxy' Writers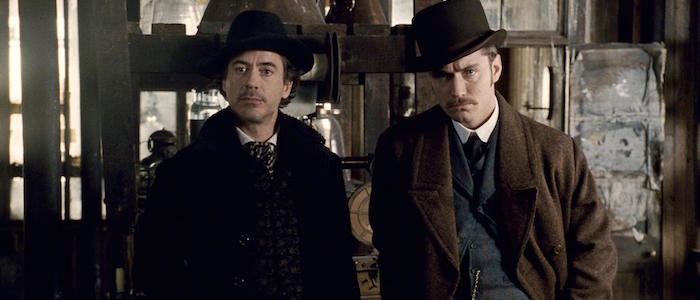 Iron Man may be Robert Downey Jr.'s most famous role, but you may recall that it's not his only ongoing franchise about an arrogant genius. He's also the star of Warner Bros.' Sherlock Holmes movies — not to be confused with BBC One's Sherlock TV series, which features a different Marvel actor as the famed detective.
The Sherlock Holmes franchise was put on hold for a bit while Downey was busy with Marvel, but now Sherlock Holmes 3 is moving forward again with an entire writers' room at its disposal. Gary Whitta (Rogue One: A Star Wars Story), Nicole Perlman (Guardians of the Galaxy), Justin Malen (Baywatch), and Kieran Fitzgerald (Snowden) are all on board to help write the next (but probably not last) installment of the series. 
Variety writes that Warner Bros. put together the writers' room with Team Downey, Robert Downey Jr.'s production shingle with his wife Susan Downey. Dan Lin, Joel Silver, and Lionel Wigram will also produce. Guy Ritchie, who helmed the first two films, is expected to return to the director's chair. Downey and Jude Law are attached to reprise their roles as Sherlock Holmes and John Watson. As of this past spring James Coyne was said to be working on the script, but he's not mentioned in the latest report so perhaps he's fallen away.
Writers' rooms have long been common in TV, but lately we've seen more and more film projects borrow the concept. Paramount has one for its Transformers movies, and a separate one for the rest of its Hasbro Cinematic Universe. Universal has one for its nascent Universal Monsters franchise, and Legendary might be putting one together for its giant monster shared universe.
You may have noticed that what all of these movie writers' rooms have in common is that they're for full-on franchises, not one-off movies. However, Variety's source insists it's "a rare case in which a room is being set up for just one film," and that the writers' room is just a way of streamlining the usual process of script rewrites and polishes.
And, you know, if that leads to a movie so good and so successful that it yields several more sequels, producer Joel Silver seems just fine with that. Sherlock Holmes 3 may or may not be the last film in the series, but it seems very likely that Warner Bros. is hoping it won't be. Especially considering the first two films, released in 2009 and 2011, grossed over $1 billion combined.
Still unclear is when Sherlock Holmes 3 will shoot. Over the summer we heard it could shoot by the end of 2016, but that's obviously not feasible anymore. And it probably won't shoot in early 2017, either, as Downey will be tied up with Avengers: Infinity War. The studio does have several 2019 and 2020 dates set aside for unnamed titles, so maybe Sherlock Holmes 3 will try and slip into one of them.