'Fantastic Beasts' Tracking For $75 Million Debut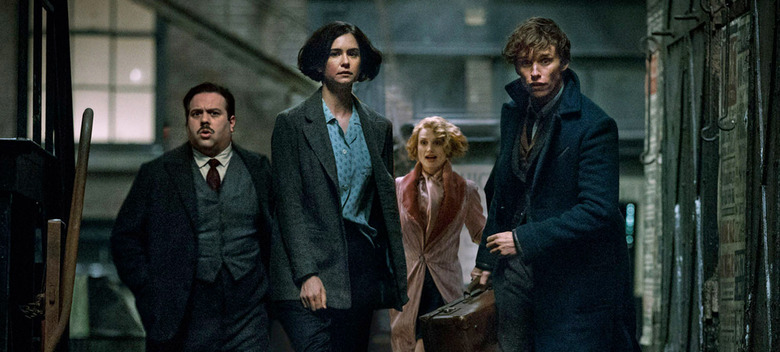 It's rare for a school textbook to serve as the basis of a box office hit, but when the school in question is Hogwarts and the textbook promises to reveal everything you've ever wanted to know about magical creatures, well, the usual rules go flying out the window. Fantastic Beasts and Where to Find Them is reportedly on track to open at around $75 million in the U.S., getting the first Harry Potter spinoff off to a promising beginning. 
According to Deadline and The Hollywood Reporter, Fantastic Beasts box office tracking numbers indicate an opening in the $68-85 million range. The more optimistic projections have Fantastic Beasts doing $75 million and up, while more cautious sources are estimating something closer to $70 million. That puts Fantastic Beasts in the top 10 opening weekends of the year so far, in a similar range as Zootopia (#8 with $75 million) and ahead of X-Men: Apocalypse, Star Trek Beyond, and probably Doctor Strange.
But it also means Fantastic Beasts will likely be among the lowest-grossing debuts in the Harry Potter franchise, in the same area as Order of the Phoenix and Half-Blood Prince with about $77 million each and far below the $100+ million openings for Goblet of Fire and the two Deathly Hallows movies. Fantastic Beasts faces different challenges than the Harry Potter movies did, though. While it's part of the same universe, it's not really an adaptation of an existing story, and features mostly new characters in an unfamiliar setting (the wizarding world of 1920s New York).
Warner Bros. has already made it clear they're all in with Fantastic Beasts. Earlier this month they announced Fantastic Beasts would be the first in a five-film series. Personally, I wish they'd waited to drop that bombshell until after Fantastic Beasts had come out. Maybe if I'd loved the first film, the thought of four more would seem exciting, but at this point it just sounds kind of grueling. From Warner Bros.' perspective, it's clearly supposed to read as a vote of confidence, not a threat.
With three weeks to go until Fantastic Beasts hits theaters, there's still time for Warner Bros. to try and give it a boost. The final stages of their marketing campaign could impact those projections, as could reviews. And keep in mind the numbers above only apply to the film's U.S. performance — we don't know much about how it might fare internationally. But given that Warner Bros. has already committed to making five of these, they're surely just relieved to see they're starting strong.