'Han Solo' Stars Alden Ehrenreich & Donald Glover On Their History With 'Star Wars,' Auditions & Action Figures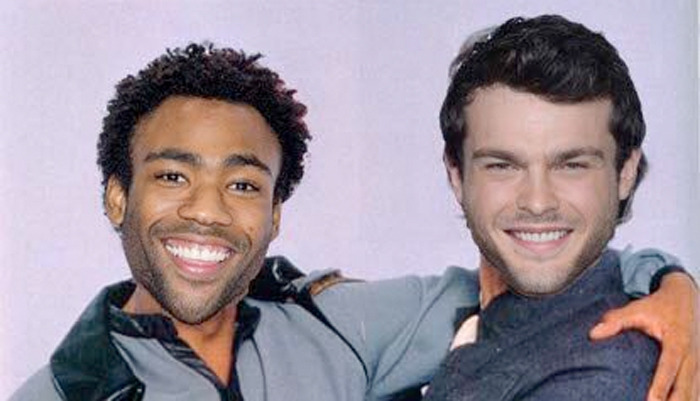 Even though we're not going to see Han Solo's own A Star Wars Story until the summer of 2018, plenty of buzz around the movie has been building thanks to the recent casting of Donald Glover as Lando Calrissian alongside Alden Ehrenreich as Han Solo. With two of the smoothest operators in the galaxy cast, fans are certainly eager to learn everything about the actors they can.
Thankfully, a couple recent interviews with both of the stars gave us some insight into their relationship with Star Wars. Ehrenreich talks about his audition process, Glover talks about not disappointing his mother, and they both talk about their childhood relationship with Star Wars.
First up, Donald Glover appear on The Ellen Show recently and briefly discussed his new role:
If you can't watch the video right now for whatever reason, Donald Glover reveals that Lando Calrissian was the first action figure he remembers receiving from his father, along with a Darth Vader figure. When Glover told his father on the phone that he had gotten the part, Glover said he heard his mother jokingly say from a distance "Don't mess it up!" Apparently she has a fondness for Billy Dee Williams, and I can't imagine how strange that might be for her to have her son playing a character previously played by an actor she loved.
Meanwhile, Alden Ehrenreich sat down for a chat with Interview Magazine (via StarWarsNewsNet), and he remembers pretending he was Han Solo as a kid, much like some of the other characters he's played:
I remember pretending to be the characters in the movies when I was a little kid. The last three movies I've done, I played a cowboy [in Hail Caesar], then I played a soldier [in Little Birds], and now I play Han Solo. So the little kid in me is having a real joyride.
Getting to live that childhood dream took a long time. However, even the audition process sounds like a dream come true. Ehrenreich explains that he spent plenty of time with Phil Lord and Chris Miller during this time:
I had an audition process that went on for a long time, and I got to spend a lot of time with the guys who are directing the film. Getting to be around them and being around the world a little bit has been the main experience so far. I did my audition on the Millennium Falcon for one of my screen tests, which was pretty cool.
I wouldn't care if I didn't get the part, having an audition on board the Millennium Falcon would be incredible. Whether it's sitting in the cockpit or at the Dejarik table, just being on the actual set of the ship would be an experience in itself.
We're bound to hear more from these two as we inch closer to the May 25, 2018 release date for the Han Solo spin-off, so stay tuned to find out what else we learn about the latest additions to a galaxy far, far away.
Header image via Jeff Burnett on Twitter