'Rules Don't Apply' Trailer: Han Solo And Snow White Walk Into A Howard Hughes Movie...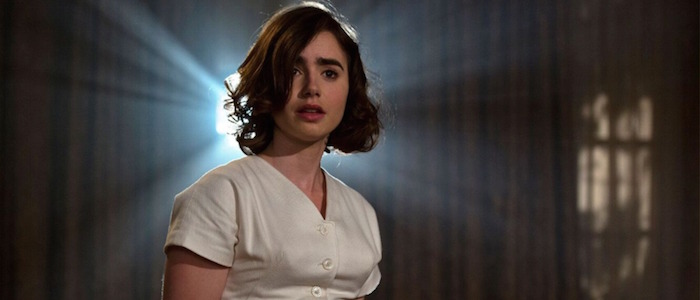 It's been 15 years since Warren Beatty has acted in a movie and 18 years since he stepped behind the camera, so the return of the Hollywood legend as both actor and director in Rules Don't Apply should be enough to pique the curiosity of anyone with a sense of film history. But if a 79-year-old living legend isn't enough, this film also features delightful young actors like Alden Ehrenreich and Lily Collins, a supporting cast stacked with some of your favorite actors, and a new trailer that makes Beatty's return to the silver screen look like a charming, frothy, and likable time at the movies.
Rules Don't Apply finds Beatty playing Howard Hughes, the legendary and reclusive billionaire, business tycoon, and movie studio mogul who contributed his fair share of insane stories to Hollywood's ever-expanding, lurid mythology. Ehrenreich, who starred in another old school Hollywood story earlier this year with the wonderful Hail, Caesar! and will soon put on Han Solo's iconic vest, plays one of Hughes' drivers. Collins, whose credits include Mirror Mirror and The Mortal Instruments: City of Bones, plays a young actress under contract with Hughes. Naturally, those two beautiful young people fall in love. Naturally, Mr. Hughes has a rule against his employees dating. Hijinks of the low-key (too much ice cream!) and the, uh, high-key (plane disasters!) ensue.
The pedigree behind Rules Don't Apply was more than enough to get the film ranked high on our most anticipated movies of the fall list, but I honestly have no idea what a Warren Beatty movie looks like in 2016. Heck, despite him winning an Oscar for helming 1981's Reds, I'm not sure I can tell you what a Warren Beatty movie looks like at all. To his credit, his short list of directorial credits is diverse enough to make Rules Don't Apply feel downright unpredictable. Combine that with Beatty's prolonged break from the film industry and you're left with a giant question mark. Hopefully, this cute, sweet, and just quirky enough trailer is indicative of the final film.
Rules Don't Apply also stars Annette Benning, Alec Baldwin, Ed Harris, Matthew Broderick, Martin Sheen, Oliver Pratt, Steve Coogan, and Candice Bergen and is set for an Oscar-friendly November 23, 2016 release date. You can watch the film's previous trailer right over here. Here's the official synopsis;
An aspiring young actress and her ambitious young driver struggle hopefully with the absurd eccentricities of the wildly unpredictable billionaire, who they work for.It's Hollywood, 1958. Small town beauty queen and devout Baptist virgin Marla Mabrey, under contract to the infamous Howard Hughes, arrives in Los Angeles. At the airport, she meets her driver Frank Forbes, who is engaged to be married to his 7th grade sweetheart and is a deeply religious Methodist. Their instant attraction not only puts their religious convictions to the test, but also defies Hughes' #1 rule: no employee is allowed to have any relationship whatsoever with a contract actress. Hughes' behavior intersects with Marla and Frank in very separate and unexpected ways, and as they are drawn deeper into his bizarre world, their values are challenged and their lives are changed.