'Finding Dory' Deleted Scene: Hank And Dory Go Exploring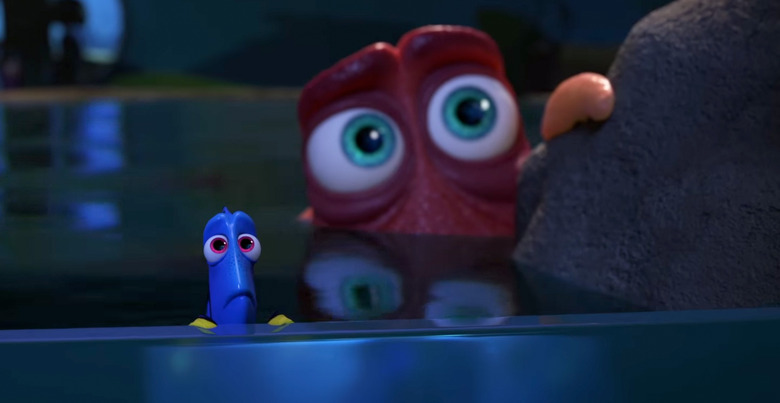 Pixar's Finding Dory came and went from theaters months ago, but we're still discovering new gems from it thanks to its impending home video release. Today we've got a Finding Dory deleted scene that sends Dory exploring the world outside the tank with some help from Hank, her cranky "septopus" pal. They're looking for her parents, but finding them proves much easier said than done. Watch it below. 
Finding Dory Deleted Scene
Swim beyond the tank with Hank in this deleted scene from #FindingDory, now on Digital HD and @DisneyAnywhere. pic.twitter.com/Uu1r3KFatw

— Disney (@Disney) October 25, 2016


Finding Dory follows Dory on her search for her parents. Hank reluctantly agrees to help, and in the deleted scene above he takes her all around the park. After she rejects his initial suggestion that she settle for a couple of spiky sea urchins ("they're round, blue, there's two of them — what more do you want?"), they go through the pipes to poke into starfish and seahorse displays, a penguin habitat, a food court, and more. In between, they stop for a quick break so Hank can stop for a hot sauce snack. I especially love the part where they pop up in the restroom, but let's all remember the cruel lesson we learned after Finding Nemo: flushing fish down the toilet will just kill them, not free them.
The final film still includes Dory and Hank making their way around the aquarium, getting up to shenanigans like dropping in on a baby stroller and getting trapped in the touch tank — just not this specific montage. I still think it's weird how much of this movie involves fish spending tons of time outside of water in relative comfort, but I suppose if we've already stretched your suspension of disbelief enough to buy the rest of the movie, that part's not such a huge stretch.
Finding Dory is available for purchase now on Digital HD, and will hit Blu-ray on November 15. You can watch another Finding Dory deleted scene here.