'24: Legacy' Trailer: Corey Hawkins Races Against The Clock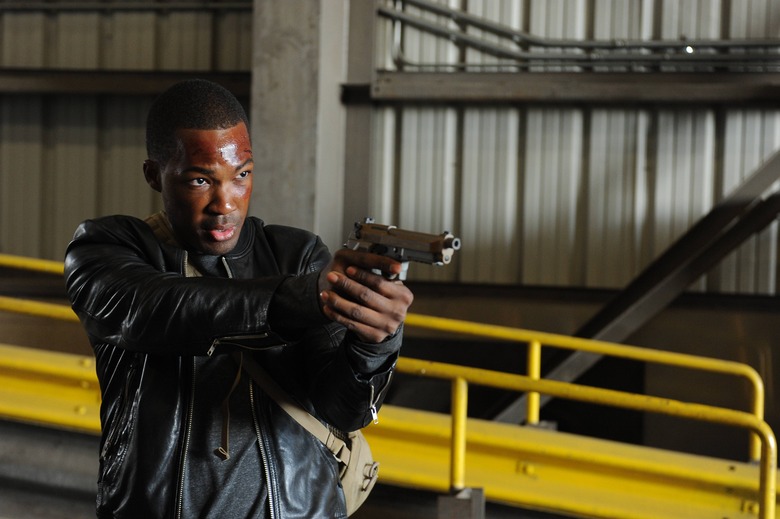 If you care at all about baseball, you probably spent some of tonight watching Game 1 of the World Series between the Chicago Cubs and the Cleveland Indians. And if you were watching, you probably caught a look at the new trailer for 24: Legacy, Fox's highly anticipated spinoff series starring Straight Outta Compton's Corey Hawkins. But just in case you missed it, or in case you did see it but feel like watching it again, we've got the first 24: Legacy trailer for you right here. Check it out below.
24 Legacy Trailer
24: Legacy follows the same race-against-the-clock pace and real-time format of the original 24, but picks up with a new lead character in a new dilemma. Hawkins star as Eric Carter, an Army Ranger who was part of a squad that killed a terrorist leader. Now the terrorist faction is out for payback, and Carter realizes there's no one he can trust to protect him but himself. Miranda Otto (Holemand) stars as an intelligence officer and Jimmy Smits plays a U.S. senator running for POTUS.
After premiering the new 24: Legacy trailer in the middle of one of the biggest televised sporting events of the year, Fox will debut the show itself immediately after one of the other biggest televised sporting events of the year: the Super Bowl, which airs Sunday, February 5, 2017.
The clock ticks again with 24: LEGACY, the next evolution of the Emmy Award-winning "24." From Emmy Award-winning executive producer Howard Gordon ("Homeland," "24: Live Another Day"), Academy Award- and Emmy Award-winning executive producer Brian Grazer ("A Beautiful Mind," "24"), writers and executive producers Manny Coto and Evan Katz ("24," "24: Live Another Day"), director and executive producer Stephen Hopkins ("24") and executive producer and original series star Kiefer Sutherland, 24: LEGACY chronicles an adrenaline-fueled race against the clock to stop a devastating terrorist attack on United States soil – in the same real-time format that has propelled this genre-defining series.
Six months ago in Yemen, an elite squad of U.S. Army Rangers, led by Sergeant ERIC CARTER (Corey Hawkins, "Straight Outta Compton"), killed terrorist leader Sheik Ibrahim Bin-Khalid. In the aftermath, Bin-Khalid's followers declared a fatwah against Carter, his squad and their families, forcing them into federal witness protection. But a recent attempt on Carter's own life makes it clear to him that his team is now exposed. To thwart further attacks, Carter enlists REBECCA INGRAM (Miranda Otto, "Homeland"), who quarterbacked the raid that killed Bin-Khalid. She's a brilliant and ambitious intelligence officer who has stepped down from her post as National Director of CTU to support her husband, SENATOR JOHN DONOVAN (Emmy and Golden Globe Award winner Jimmy Smits, "NYPD Blue," "The West Wing"), in his campaign for President of the United States. Decades of sleepless nights and missed anniversaries landed her at the top. With the White House within their grasp, can she truly embrace a new role as First Lady? Or will her love of the action draw her back in? Together, in this fast-paced thrill ride, Carter and Ingram uncover a sophisticated terrorist network that will force them to ask: "Who can we trust?" As they battle Bin-Khalid's devotees, they are forced to confront their own identities, families and pasts.