'Man Down' Trailer: Shia LaBeouf And Jai Courtney Star In Dito Montiel's Post-Apocalyptic War Drama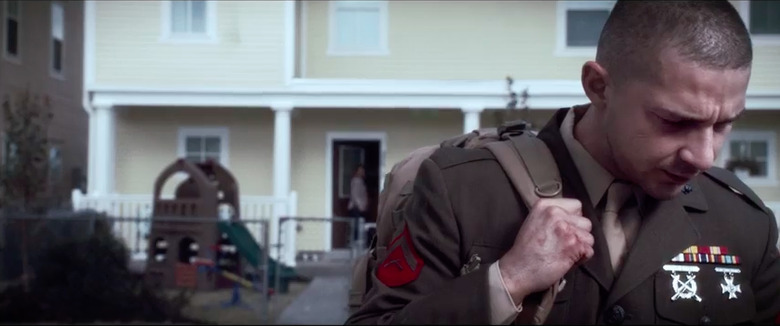 A decade ago writer/director Dito Montiel made a strong impression with his directorial debut, A Guide to Recognizing Your Saints, based on his memoir of the same name. Since 2006, he hasn't made a movie that's struck a similar chord with audiences and critics. He's collaborated with some great talent over the years, including Al Pacino and the late Robin Williams, but he's yet to make a movie as compelling as A Guide to Your Recognizing Your Saints. Montiel's latest picture, Man Down, reunites him with the star of his debut film, Shia LaBeouf.
Below, watch the Man Down trailer.
LaBeouf plays U.S. Marine Gabriel Drummer, a soldier struggling with PTSD after returning home from a tour in Afghanistan. The trailer is heavier on atmosphere than plot, so it's hard to glean this from the footage, but it's about Drummer searching for his wife, Natalie (Kate Mara), and his son, Jonathan (Charlie Shotwell), in a post-apocalyptic landscape. Accompanying Drummer for his journey is his best friend and fellow U.S. Marine, Devin Roberts (Jai Courtney), although there looks to be a twist there, based on the trailer. Man Down co-stars Gary Oldman and Clifton Collins Jr. 
Here's the Man Down trailer, which is cut to TV on the Radio's "DLZ":
Man Down is coming out a year after premiering at the Venice Film Festival and shortly after we saw LaBeouf's excellent performance in American Honey. The reviews for Montiel's latest are mostly negative, but plenty of critics have praised the actor's work in the film. The trailer's quote from Variety comparing him to Marlon Brando and Montgomery Clift is taken slightly out of context, though. The critic went on to write the authenticity of LaBeouf's performance highlights the artifice of the film, adding that the performance's intensity sometimes feels like too much. We'll see if that's the case when Montiel's latest comes out in December.
Here's the official synopsis:
When U.S. Marine Gabriel Drummer (Shia LaBeouf) returns home from his tour in Afghanistan, he finds that the place he once called home is no better than the battlefields he fought on overseas. Accompanied by his best friend Devin Roberts (Jai Courtney), a hardnosed marine whose natural instinct is to shoot first and ask questions later, he searches desperately for the whereabouts of his estranged son, Jonathan (Charlie Shotwell) and wife, Natalie (Kate Mara). In their search, the two intercept Charles (Clifton Collins), a man carrying vital information about the whereabouts of Gabriel's family. As we revisit the past, we are guided in unraveling the puzzle of Gabriel's experience and what will eventually lead us to finding his family.
Man Down opens in theaters on December 2nd.