Marvel's 'The Punisher' Coming To Netflix In 2017; Five More Cast Members Announced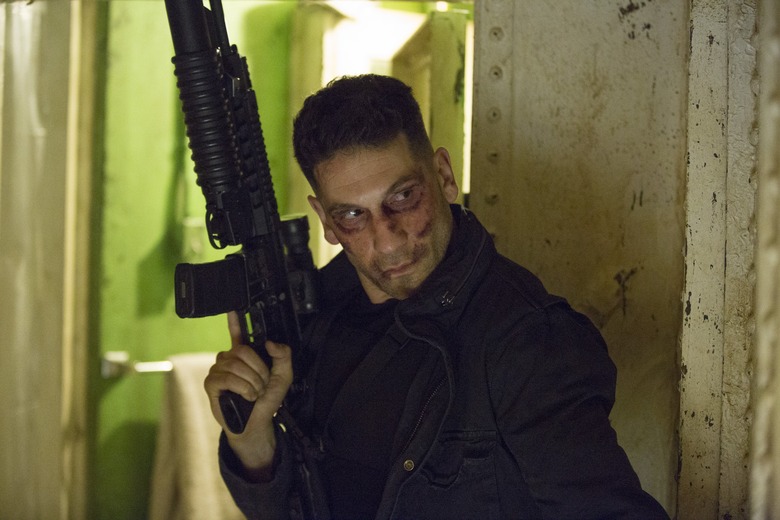 Netflix has finally, officially confirmed what we already suspected: The Punisher will hit the streaming service next year, making 2017 the first time Netflix will have three new Marvel seasons in a single year.
And to celebrate that big news, they've also just dropped a bunch of casting announcements. Daniel Webber, Jason R. Moore, Paul Schulze, Jaime Ray Newman, and Michael Nathanson have all climbed aboard the new series. They join Ben Barnes, Ebon Moss-Bachrach, Amber Rose Revah, Daredevil alum Deborah Ann Woll, and of course the Punisher himself, Jon Bernthal. 
Marvel announced the big news today, and describes the new characters as follows:
Daniel Webber ("11.22.63") has been cast as Lewis Walcott, a young veteran who has had a difficult time re-assimilating into Civilian Society.
Jason R. Moore ("A Lonely Place for Dying") joins as Curtis Hoyle, a friend of Frank Castle's and one of the few people who knows he is alive.
Paul Schulze ("Nurse Jackie") will play Rawlins, a high-ranking member of the CIA whose operations in Afghanistan intersect with Frank Castle.
Jaime Ray Newman ("Bates Motel") plays Sarah Lieberman, Micro's wife (played by Ebon Moss-Bachrach) whose marriage has made her life far more complicated.
Michael Nathanson ("The Knick," "Wolf of Wall Street") has been cast as Sam Stein, a Homeland agent who is challenged by his partnership with Dinah (Amber Rose  Revah).
In the comics, William Rawlins is a corrupt CIA officer who sets up a terrorist cell in Riyadh, Saudi Arabia, and Curtis Hoyle (also known as Chris Hoyle) is an Army officer who becomes part of a drug ring. The other characters have been created just for the show, as far as I've been able to tell from Googling around; if you've got details on their comic book counterparts, please spill.
As previously reported, Moss-Bachrach plays Micro, a former NSA analyst who has some sensitive information Frank Castle might need, and Revah is Dinah, a highly trained Homeland Security agent. Barnes is reported to be playing Billy Russo, Frank's best friend from the Special Forces who now runs a private military corporation called Anvil. Woll will reprise her role from Daredevil as Karen Page.
Although Netflix ordered the Punisher series in April, shortly after the character made his well-received debut on the second season of Daredevil, we believed until recently that The Punisher would arrive sometime after The Defenders, likely around 2018 or so. But when Bernthal was spotted shooting scenes earlier this month, it became increasingly clear that The Punisher would move sooner than expected.
While The Punisher does not have an exact release date, it will likely drop sometime after Iron Fist, which is scheduled to arrive March 17, 2017, and before The Defenders, which has yet to start shooting.