James Wan Wants Aquaman And Mera's Relationship To Evoke Classic Action-Adventure Romances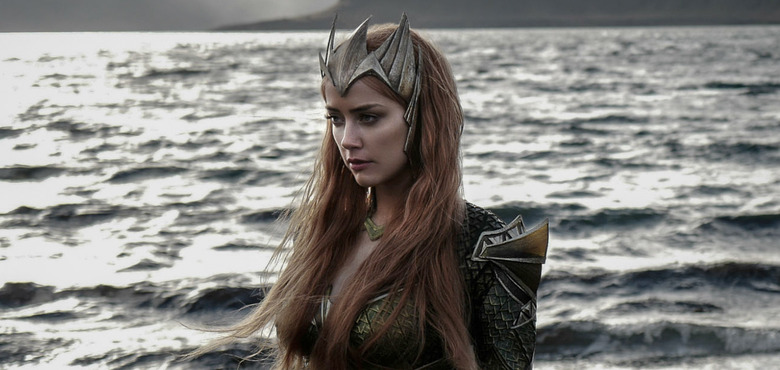 Two weeks ago we got our first look at Mera, the Queen of Atlantis and wife of Aquaman (Jason Momoa). She plays a role in Zack Snyder's Justice League, which recently wrapped shooting in London, but the size of her role in that film remains unknown. We do know the character will have a large part to play in James Wan's Aquaman. The director, who envisions the film as a "swashbuckling action adventure" and a "high seas adventure story," says Aquaman and Mera are far from married at the start of Aquaman.
Below, learn more about the Aquaman and Mera relationship.
The other day Wan described Aquaman as "a quest story potentially in the spirit of Raiders of the Lost Ark meets Romancing the Stone." Those are hardly bad adventure movies to draw inspiration from, but what's inherent in the DNA of those films? Great romances.
Wan told Bustle he wants to evoke the classic "adventure-romance aspect" of those films. In those movies, the romances have their ups and downs. According to Wan, Aquaman and Mera's relationship doesn't get off to a great start either:
It starts off initially with them not quite clicking with each other. But then as the story progresses as they learn to try and work together, they get closer and closer. I think those stories are always such a great place for a filmmaker like myself to have fun with my actors... I think that dynamic will be really interesting between the two.
Wan has described Aquaman as a bit of a loner and a reluctant king. How does he view Mera? As a character "you don't want to miss with":
Amber's character is super strong, she's very powerful as well. You don't wanna mess with her. I think Amber will bring that sense of strength, but at the same time, we also want someone who has a sort of feminine quality to her as well. She's a bit of a contrast to Momoa, who's more of a muscular machine almost.
Heard and Momoa do have two very distinct looks, but putting aside that contrast, let's hope they have what it takes to capture a bit of the magic we see in the love stories from Romancing the Stone and Raiders of the Lost Ark. That's asking a lot, of course, but the DC Universe could use a great romance. Clark and Lois' relationship is fine, but it's hardly at the forefront of Man of Steel and Batman v Superman: Dawn of Justice.
Here's the official logline for Aquaman:
An icon for over 70 years, Aquaman is the King of the Seven Seas. This reluctant ruler of Atlantis, caught between a surface world constantly ravaging the sea and Atlanteans looking to lash out in revolt, is committed to protecting the entire globe.
Aquaman opens in theaters July 17th, 2018.