'Gilmore Girls: A Year In The Life' Trailer Takes A Jab At Ben Affleck As Batman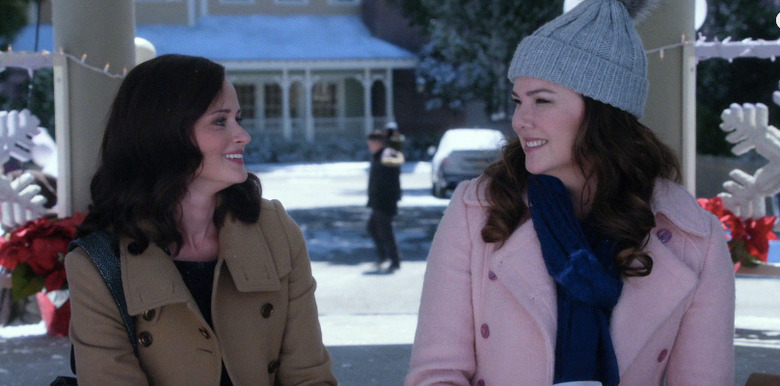 For some, the return of Gilmore Girls is bigger than Batman v Superman or Captain America vs. Iron Man. For everyone else, you might be interested to know that the first trailer for the Netflix revival of the show, Gilmore Girls: A Year In The Life, features a little joke about the former of those big screen superhero battles, albeit at the expense of Ben Affleck.
Watch the Gilmore Girls A Year In The Life trailer after the jump.
It appears everything about the original show is intact in this surprising revival coming to Netflix just in time for Thanksgiving. Lauren Graham and Alexis Bledel are back as the fast-talking mother and daughter of Stars Hollow, Connecticut, and they've brought plenty of your favorite characters with them, including Melissa McCarthy back as Sookie St. James, getting a brief but funny appearance in the trailer.
As someone who hasn't partaken in more than a few minutes of the show here and there, I must say that I've felt compelled to check it out. Plenty of people whose opinion I respect say the writing is very clever, and the show isn't exactly what you'd expect. If you're also in the same boat, it looks like we've got about a month before the four-part, 360-minute revival hits Netflix next month, so we better get cracking if we're going to finish by then.
Gilmore Girls makes its much-anticipated return with four memorable chapters from the lives of Lorelai, Emily, Rory and countless more Stars Hollow stalwarts. Picking up nine years after we last dropped in on the whimsical Connecticut town, Gilmore Girls: A Year in the Life finds each of our leading ladies at a major crossroad: Lorelai's relationship with Luke is at an unnerving standstill; Rory's budding journalism career in New York has stalled before it's even begun; and Emily's world is turned upside down following the untimely passing of her beloved husband, Richard.
Gilmore Girls: A Year in the Life is told through four 90-minute chapters — each spanning one season: Winter, Spring, Summer, Fall — and brings back to life everything from the quaint corner diner to the dreamy Dragonfly Inn to a fast-talking, quick-witted mother-daughter love story unlike any other.
Gilmore Girls: A Year in the Life launches November 25 on Netflix.