'I Am The Pretty Thing That Lives In The House' Trailer: Netflix's Latest Horror Movie Gets A Creepy Preview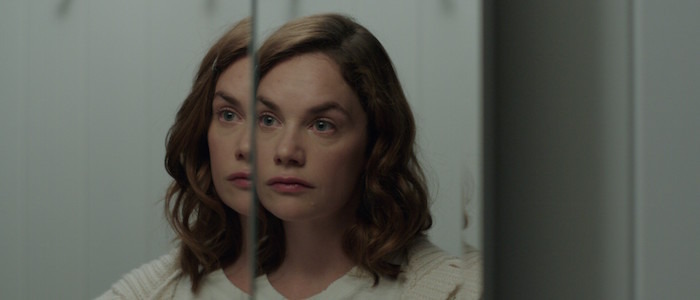 If you're looking for a new horror movie in theaters this Friday, the final Friday before Halloween, you may be out of luck. While last weekend brought us (the surprisingly well-received!) Ouija: Origin of Evil, this weekend isn't offering much to moviegoers looking for a scare. Unless you consider a third Robert Langdon thriller to as terrifying as I do.
But Netflix has got you covered with their latest release, I Am the Pretty Thing That Lives in the House, a haunted house movie from rising genre star Oz Perkins. The trailer for the film, which will begin streaming later this week, has arrived.
Perkins (who, trivia fans should note, is the son of Psycho star Anthony Perkins) made a splash a few years ago The Blackcoat's Daughter (originally titled February), a slow-burning horror movie that divided audiences across the festival circuit. However, those who took to Perkins' focus on atmosphere and dread really took to it, winning him a passionate band of admirers. And that brings us to I Am the Pretty Thing That Lives in the House, a film that looks to be very much a tonal companion piece to his previous work.
Ruth Wilson stars as Lily, a young live-in nurse assigned to look after an aging writer, Iris (Paula Prentiss, playing a riff on The Haunting of Hill House and The Lottery author Shirley Jackson). Then Lily reads Iris' book, which shakes her to her core. And then the house she works in starts to... change.
And to be fair, I only know those details from the official plot synopsis. As I'd expect for a trailer selling the new Oz Perkins movie, the focus here is on atmosphere more than story.
But here's that official synopsis, should you want to know more:
Lily (Ruth Wilson) is a naïve young nurse hired to care for aging and reclusive author Iris Bloom (Paula Prentiss) — a character based on American mystery and horror novelist Shirley Jackson — in her isolated country manor. The old woman is lost in her memories and barely acknowledges her caregiver, except to repeatedly call her "Polly," the protagonist of her novel The Lady in the Walls. Though Lily is squeamish and easily frightened, her curiosity gets the better of her and she reads the book: the chilling story of a beautiful murdered woman. It gets under Lily's skin, and she comes unhinged as the shadows of Iris' grand home begin to take on a more sinister appearance.
I Am the Pretty Thing That Lives in the House will drop on Netflix on October 28, 2016.