Jason Will Be "Unrelenting" In The 'Friday The 13th' Reboot; Taking 'Force Awakens' Approach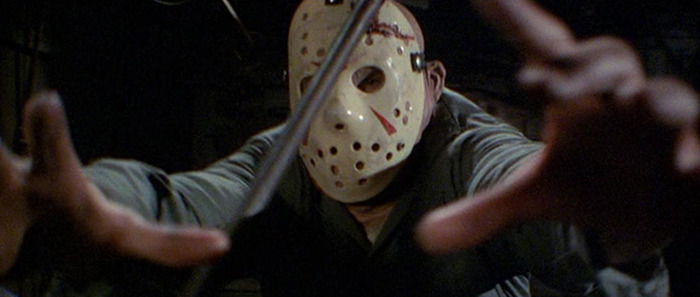 Platinum Dunes' planned Friday the 13th reboot has been pushed back so many times at this point, you'd be forgiven for taking an "I'll believe it when I see it" attitude to the whole endeavor. But producers Brad Fuller and Andrew Form swear it's still happening, and that when it does Jason will prove "unrelenting." They'd also really like it if that unrelenting Jason managed to attract some new fans as well as bring back old ones.
So far, the next iteration of Jason Voorhees has proved to be better at missing release dates than at killing camp counselors. The next Friday the 13th movie — the 13th — was originally scheduled for 2015, then 2016, and as of now it's scheduled for October 13, 2017. On the bright side, it does currently have a director (Breck Eisner, The Crazies) and a script (by Aaron Guzikowski, Prisoners).
In an interview with Variety, Fuller talked about what we can expect from the next Friday the 13th movie.
This is the 13th "Friday the 13th" and on some level that's kind of magical that we are lucky enough to make the 13th "Friday the 13th" movie. The challenges are you don't want to alienate the people that come to see the first 12 but at the same time you don't want your audience who haven't seen the first 12 to feel like I've missed out on all of this and I'm not coming to see the 13th film.
The new film is actually a reboot following another reboot, 2009's Friday the 13th. Though it made a decent chunk of change ($91 million), it failed to launch an actual franchise. The producers' hope for the next film is that it'll find a balance between the new and the familiar. Fuller continued:
That's where and why we were lucky enough to get Aaron Guzikowski, who is an amazing writer and who saw a way to bridge those two audiences and make a way a movie where if you haven't seen a "Friday the 13th" movie you know exactly what is going on and if you have seen one, you are going to be smiling the whole way through because there are nods to everything that you know but it is not imperative that you know those things to enjoy the film.
We have made plenty of slasher movies and what excites us about this one is that our characters aren't just meat for Jason to butcher. These are real characters which will hopefully make the bond with the audience that much stronger because you really care about the people in this film.
Previously, Fuller has hinted that the Friday the 13th reboot will extend that same rich characterization to Jason, giving him a new origin story. Whether that's really necessary remains up for debate, but for now Fuller and Form would like fans to know that this Jason won't pull his punches. "He's busy," said Fuller. "It's unrelenting."