'Frank & Lola' Trailer: Michael Shannon And Imogen Poots Aren't Playing Games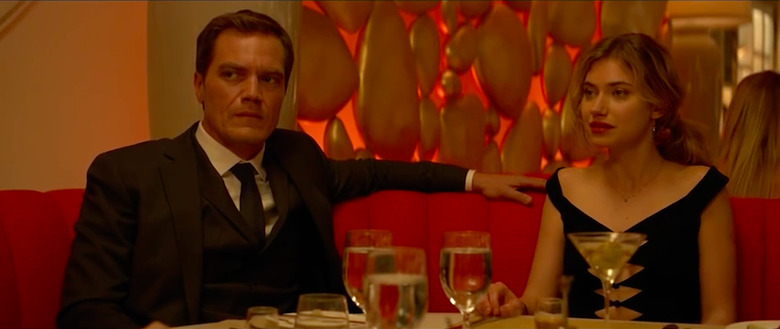 A psychosexual thriller starring Michael Shannon and Imogen Poots? Where do we line up? Well, this year's Sundance Film Festival was the first place to get in line for the noir romance. Journalist-turned-director Matthew Ross' feature directorial debut, which was met with a positive response at Sundance, stars Shannon and Poots as a couple whose relationship begins to take some dark, mysterious turns.
Below, watch the Frank & Lola trailer.
Frank & Lola is set in Las Vegas and Paris. The thriller is described as an exploration of "love and sex, obsession and betrayal, revenge and redemption." Shannon plays Frank, a chef with promise, and Poots plays Lola, who dreams of a life in fashion design. The two begin a heated, passionate affair, but when a man from Lola's past enters the picture, Frank starts to question both Lola and himself. The film co-stars Michael Nyqvist (The Girl with the Dragon Tattoo), Justin Long (Idiocracy), Emmanuelle Devos (Coco Before Chanel), and Rosanna Arquette (Crash).
Here's the Frank & Lola trailer:
The trailer makes Frank & Lola look well crafted and suspenseful, but the glimpses of Shannon and Poots' intense romance is the highlight. I mean, talk about a pairing you'd actually like to see as an audience member, especially considering the year Poots and Shannon are having. These days it seems like every year is good to Shannon, but Poots gives one of the most ferocious, attention-grabbing performances of 2016 in Green Room. She's also quite charming and vulnerable in Showtime's short-lived Roadies. The actress will conclude the year with Frank & Lola, which based on the trailer and early reviews, isn't a bad way to end the year.
Here's the official synopsis:
Set in Las Vegas and Paris, two of the world's most glamorous cities, FRANK & LOLA is a psychosexual noir romance about love and sex, obsession and betrayal, revenge and redemption. Matthew Ross's debut feature stars Michael Shannon as Frank, an up-and-coming chef, and Imogen Poots as Lola, an aspiring fashion designer, who find one another at a point when each is at a defining moment in life. Their affair is sudden, passionate, and seemingly everything Frank has always wanted. But, his happiness proves short-lived when a man from Lola's past, a past that is full of secrets, turns up on the scene, forcing Frank to question whether he can trust Lola—or himself.
Frank and Lola opens in theaters December 9th.