Scott Derrickson Would Love To Make A Visceral 'Doctor Strange' Sequel In The Vein Of 'The Dark Knight'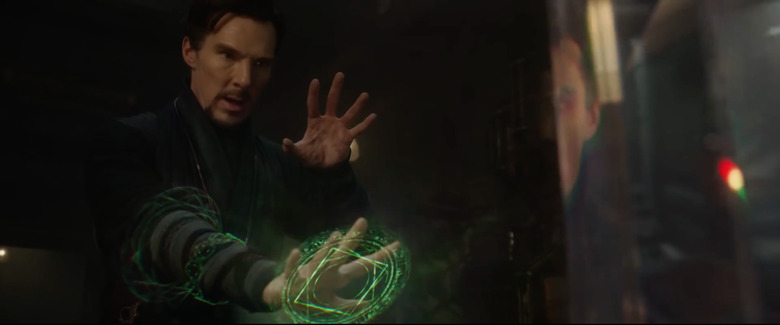 Doctor Strange comes out in less than two weeks now, but the early buzz is already remarkably high for director Scott Derrickson's Marvel movie. Critics are embracing the origin story, which shares a few things in common with the likes of Batman Begins, Captain America: The First Avenger, and Iron Man. Doctor Strange is an exceptional origin story where the setup is as entertaining as the setpieces, but with Stephen Strange's origin story now told, what's next for the character?
Below, read what Scott Derrickson said about a Doctor Strange sequel.
There's a lot of groundwork to lay in Doctor Strange. Derrickson and his co-writers Jon Spaihts and C. Robert Cargill had to set up an ensemble of characters and plenty of rules and details about this trippy side of the universe. The characters and world are clearly and cleanly established, but it's the type of exposition that likely wouldn't be necessary for a sequel. With a potential sequel, Derrickson would probably have far less heavy lifting to do from the start.
The director now has the opportunity, like Christopher Nolan did, to make a comic book movie that explores the well-established hero's adversary more. Here's what Derrickson told Den of Geek about envisioning a more "visceral" sequel:
What made The Dark Knight so great was that the origin story of Batman had been well-told, and then it was time to bring in a villain where you really got to go deep. And not just the Joker, also Two-Face. It was a more visceral experience, I'd love to be able to do that for Doctor Strange.
The director added:
I love the character, I love the visual possibilities, and I know the comics so well – [the first movie is] the tip of an iceberg. There's so much progress that can be made.
Doctor Strange tells a complete story, but it also leaves the door open for future possibilities. We all know we'll see Doctor Strange again in the MCU — and some are speculating we'll see him next in Thor: Ragnarok, based partially on a set photo – but we'll have to wait and see about a sequel. It is, however, difficult to imagine audiences not wanting one after seeing Doctor Strange, but again, we shall see. Marvel's latest film is currently on track to make somewhere between $50 million and $70 million, which is in the neighborhood of Ant-Man and Captain America: The First Avenger's opening weekends.
Here's the official synopsis for Doctor Strange:
From Marvel Studios comes "Doctor Strange," the story of world-famous neurosurgeon Dr. Stephen Strange whose life changes forever after a horrific car accident robs him of the use of his hands. When traditional medicine fails him, he is forced to look for healing, and hope, in an unlikely place—a mysterious enclave known as Kamar-Taj. He quickly learns that this is not just a center for healing but also the front line of a battle against unseen dark forces bent on destroying our reality. Before long Strange—armed with newly acquired magical powers—is forced to choose whether to return to his life of fortune and status or leave it all behind to defend the world as the most powerful sorcerer in existence.
Doctor Strange opens in theaters November 4th.