'Star Wars Episode 8' Will Reveal The Truth About Rey's Parentage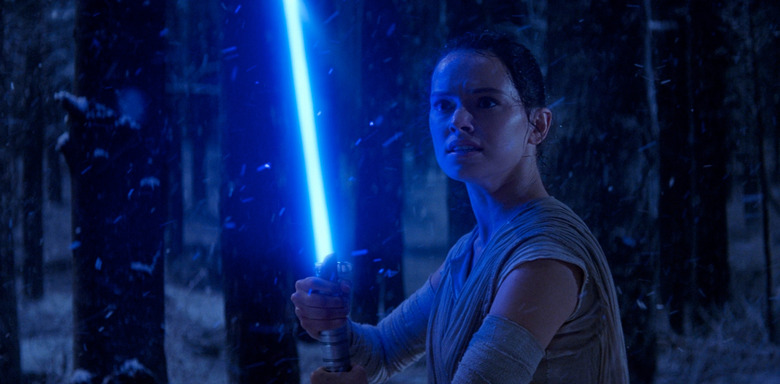 For as long as fans have known of Rey's existence, we've been wondering about her parentage, and The Force Awakens did nothing to clear things up. There's reference to a family that's left her behind, and this being Star Wars, the odds seem good that she'll turn out to be related to someone we know. But all we have is speculation, at least until next year.
While Daisy Ridley isn't ready to say who Rey's family is, she can say when we'll get to find out. According to the actress, the truth about Rey's parentage will be revealed in Star Wars Episode 8. Oh, and for those wondering if Rogue One's Jyn Erso might be Rey's mother, Ridley tries to throw some cold water on that particular theory. 
Vulture asked Ridley about theories that Rey is related to Obi-Wan Kenobi. Ridley's response was coy but intriguing. "We will see in a year," she said. "Just sit tight on that question." "In a year," of course, is when the still-not-officially-titled Star Wars Episode 8 opens, so it sounds like we can definitely expect some closure then.
In between now and then is December's Rogue One: A Star Wars Story. That one stars Felicity Jones as Jyn Erso, and Jones' physical resemblance to Ridley has led some fans to wonder if Jyn might be Rey's mom. However, Ridley downplays that particular fan theory using math. "I mean, I think historically it wouldn't work, because she is... Darth Vader is there... so she would ultimately be my great-grandma; no, she would be my grandma," she mused. "I mean, it could happen, especially in a galaxy far, far away."
Let's work this out for ourselves. Rogue One and The Force Awakens take place roughly 35 years apart. Jones is 33, and Ridley was 23 when The Force Awakens came out. Assuming the characters are about the same age as the actresses who play them (and assuming Jyn even survives Rogue One), this means Jyn will be about 45 years old when Rey is born. That'd put Jyn on the older side for a new mom, but it's not a definitive mathematical impossibility.
Personally, I wouldn't mind if it turned out Rey were not related to anyone important at all, but I don't think that's likely. So assuming she is related to someone we know, Episode 8 seems like the right moment to divulge those details. The Force Awakens gave Rey the opportunity to stand on her own, so that we could get to know and love her without the distraction of famous relatives, but waiting til Episode 9 would feel like dragging out the big reveal for no reason.
Star Wars: Episode 8 is directed by Rian Johnson and scheduled for release on December 15, 2017.