Westworld Episode 5 Trailer Teases An Epic Meeting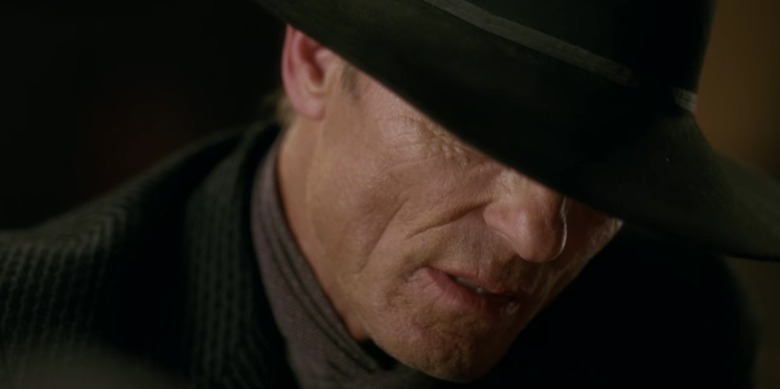 Before Westworld made its world premiere on HBO, journalists, critics, and bloggers were given screener of the first four episodes of the new Jonathan Nolan and Lisa Joy television series. But now that the fourth episode of Westworld aired last night, we are all on the exact same train heading into uncharted territory on ominous DELOS park map. But we have a glimpse into the future thanks to HBO's Westworld episode 5 trailer. Get a sneak peek at"Contrapasso" after the jump, alongside some more information on next week's episode.
Westworld Episode 5 Trailer: "Contrapasso"
Westworld Episode 5 is titled "Contrapasso," which is an Italian word translating to "suffer the opposite," referring to the punishment of souls in Dante's Inferno, "by a process either resembling or contrasting with the sin itself." So we're looking at divine justice in next week's episode, which is directed by Jonny Campbell, a television veteran who worked on Peak Practice, Pheonix Nights, Shameless, Ashes to Ashes, Doctor Who, In the Flesh, The Casual Vacancy and more.
The trailer teases an epic meeting between Anthony Hopkins' character Doctor Ford and Ed Harris' character The Man in Black. I'll be honest; I wasn't expecting these two to meet until the last or next to last episode of season one — it was my guess as to what Harris would find at the end of the maze. Ford is the creator of Westworld, making him essentially God of this world. And The Man in Black is almost like the devil himself walking the land. So this meeting is sure to be exciting.
We should learn more about who The Man in Black is and perhaps what exactly he is searching for. What do you think might come out of this much-anticipated meeting? Leave your thoughts in the comments below.
The official Westworld synopsis for the fifth episode follows:
Dolores, William and Logan reach Pariah, a town built on decadence and transgression, and are recruited for a dangerous mission; The Man in Black meets an unlikely ally in his search to unlock the maze.
Westworld episode 5 entitled "Contrapasso" airs Sunday, October 30th, 2016 at 9:00 p.m. on HBO.