'Han Solo': Donald Glover Officially Cast As Lando Calrissian In 'Star Wars' Spinoff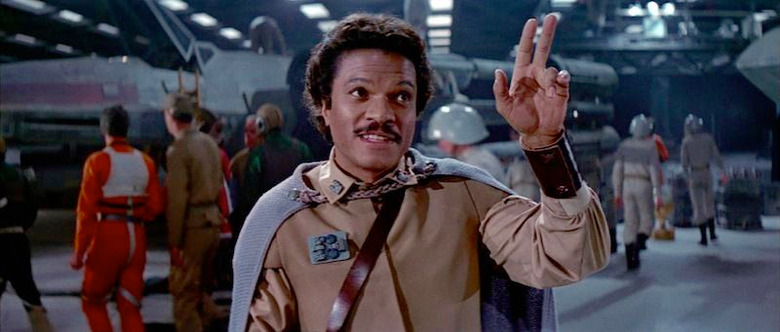 Disney's Han Solo spinoff has found its Lando Calrissian. Over the summer word got out that Donald Glover had emerged as the frontrunner to play Han's smooth-talking, sweet-space-cape-wearing buddy, and today Lucasfilm has made it official. Glover joins Alden Ehrenreich (Hail, Caesar!), who was announced to play Han Solo at Star Wars Celebration a few months ago. See the Han Solo Donald Glover announcement below. 
Star Wars shared the big news.
Hello, what have we here? Donald Glover is Lando Calrissian in the untitled 2018 Han Solo Star Wars Story. https://t.co/ChueOBd0fv pic.twitter.com/54JOBM1P9K

— Star Wars | Andor Premieres Sept 21 on Disney+ (@starwars) October 21, 2016
As the press release puts it, "this new film depicts Lando in his formative years as a scoundrel on the rise in the galaxy's underworld — years before the events involving Han, Leia, and Darth Vader in The Empire Strikes Back and his rise to Rebel hero in Return of the Jedi." Disney CEO Bob Iger has described the film as "an origin story about Han Solo and Chewie." It seems likely we'll finally get to see how exactly Han Solo got the Millennium Falcon from Lando.
Directors Phil Lord and Chris Miller had some very sweet (and pretty funny) things to say about their new star as well:
We're so lucky to have an artist as talented as Donald join us. These are big shoes to fill, and an even bigger cape, and this one fits him perfectly, which will save us money on alterations. Also, we'd like to publicly apologize to Donald for ruining Comic-Con for him forever.
While Ehrenreich and Glover are the only actors confirmed so far, we've heard in recent weeks that the filmmakers are closing in on another role, with Tessa Thompson, Zoe Kravitz, and Naomi Scott among the names in the running to play the female lead who may or may not be Sana Starros.
As an actor, Glover first broke out on NBC's Community, and has had roles in films like Magic Mike XXL, The Martian, and the upcoming Spider-Man: Homecoming. He created and stars in FX's Atlanta, which has been hailed as one of the best new shows of the 2016. In addition to his work as an actor, Glover is a standup comedian and screenwriter (with credits including Atlanta and 30 Rock). He also has a flourishing rap career under the stage name Childish Gambino.
The as-yet-untitled Han Solo movie is scheduled for release on May 25, 2018.