Watch: Mads Mikkelsen Is An Assassin In Jake Scott's Short Film 'Le Fantôme'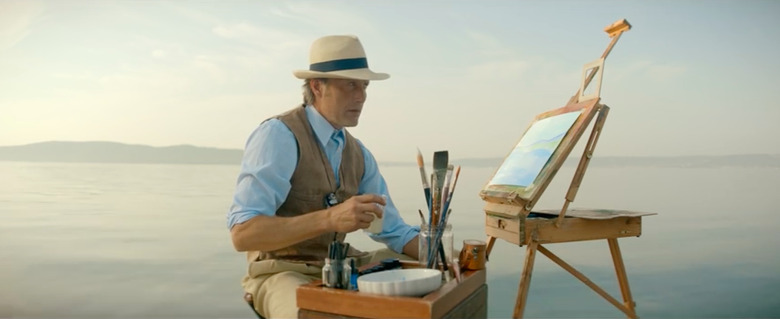 Sir Ridley Scott has quite the talented family. His three children have all directed feature films. The last feature Scott's eldest son, Jake Scott, directed was Welcome to the Rileys, a compelling drama with memorable performances. The director made his feature filmmaking debut with the little-known Plunkett & Macleane, which, even in Jake Scott's eyes, is a very rough around the edges first movie. He's also directed some excellent music videos and short films throughout his career, including a new eight-minute short starring Mads Mikkelsen (Hannibal) as an assassin.
Below, watch the new Jake Scott short film.
Scott's film, titled Le Fantôme (translated as The Ghost), is an advertisement for the new Ford Edge. Here's how the synopsis describes the story: "An enigmatic stranger, a couple who no longer exist, danger in the shadows and the key to it all... The new Ford Edge." I was hoping not to reveal this is a Ford advertisement before you all watch the short, but the Ford logo doesn't go away at the bottom of the screen, so there's no getting past that dead giveaway. It's not exactly a twist, but it would've been a fun turn.
The Ford Motor Company Presents Jake Scott's latest short:
The reveal of the new Ford Edge is great. "I thought the point of all this was to leave your past behind," the man says as he removes his sunglasses. Playing that moment as seriously as Mikkelsen's introduction and narration just makes for a good joke and a hilarious contrast.
For Jake Scott, Le Fantôme isn't a comedy, it's a love story:
This, for me, was always really a love story, between a human and a car. As unlikely as that may seem, then consider the pairing of Le Fantôme and the Ford Edge. Bizarre perhaps, but unquestionably memorable. What a character & what a car!
And who better to cast as a man falling in love with a car than Mads Mikkelsen? His serious presence helps make the laughs bigger, especially whenever Scott cuts from him narrating about the course of our lives to a shot of that new Ford Edge. Le Fantôme's locations, compositions, and costumes are fantastic, but seeing Mikkelsen underplay some jokes is the highlight. As proven by Hannibal, Mikkelsen's collaborations with director Anders Thomas Jensen (Men & Chicken), and other works, the actor, although known for his more sinister roles, is incredibly funny. Scott nicely subverts Mikkelsen's villainous image.
There's no word on when we might see another feature film from Jake Scott. You can see more of his work, including a Johnnie Walker short film starring Jude Law, over at RSA Films official site. Years ago the director did some guest blog posts on the site, as well, writing about his experience at the Sundance Film Festival.